35 Female Trio Halloween Costumes
This post may contain affiliate links, which means I may earn a commission if you decide to make a purchase through our links, at no cost to you. You may view the disclosure here.
Eager to turn heads and steal the show this Halloween with your fantastic trio of friends? Well, you know what they say, three's not a crowd; it's a thrilling party waiting to happen! Imagine the sheer fun of having not one but two besties to share this spooky season with. It's time to step up your costume game and dive into the world of female trio Halloween costumes.
The vast expanse of the internet is brimming with ingenious costume ideas, and I've done the legwork to bring you the creme de la creme. Below you will find the most brilliant female trio Halloween costumes that you and your friends can effortlessly recreate.
So, let's embark on this Halloween adventure and make it one for the books!
Female Trio Halloween Costumes
After you've checked out these female trio Halloween costumes, you may want to check out these female group Halloween costumes and these teen girl group costume ideas too!
Winifred, Sarah, and Mary from Hocus Pocus
These Sanderson Sister Halloween costumes are so cute and perfect for three women! These trio female Halloween costumes are so much fun!! Plus, these costumes comes in plus sizes too on Amazon!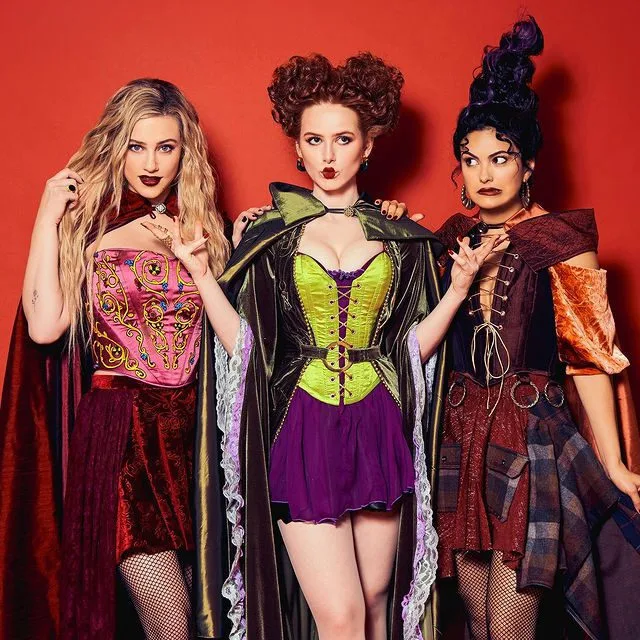 PowerPuff Girls
Dressing up as Buttercup, Blossom, and Bubbles is such a cute female trio Halloween costume idea! Plus, you can easily do your own DIY costumes by simply wearing a solid-colored dress (in blue, pink, or green) with a black belt. Then, finish up your DIY costumes with white tights and black heels!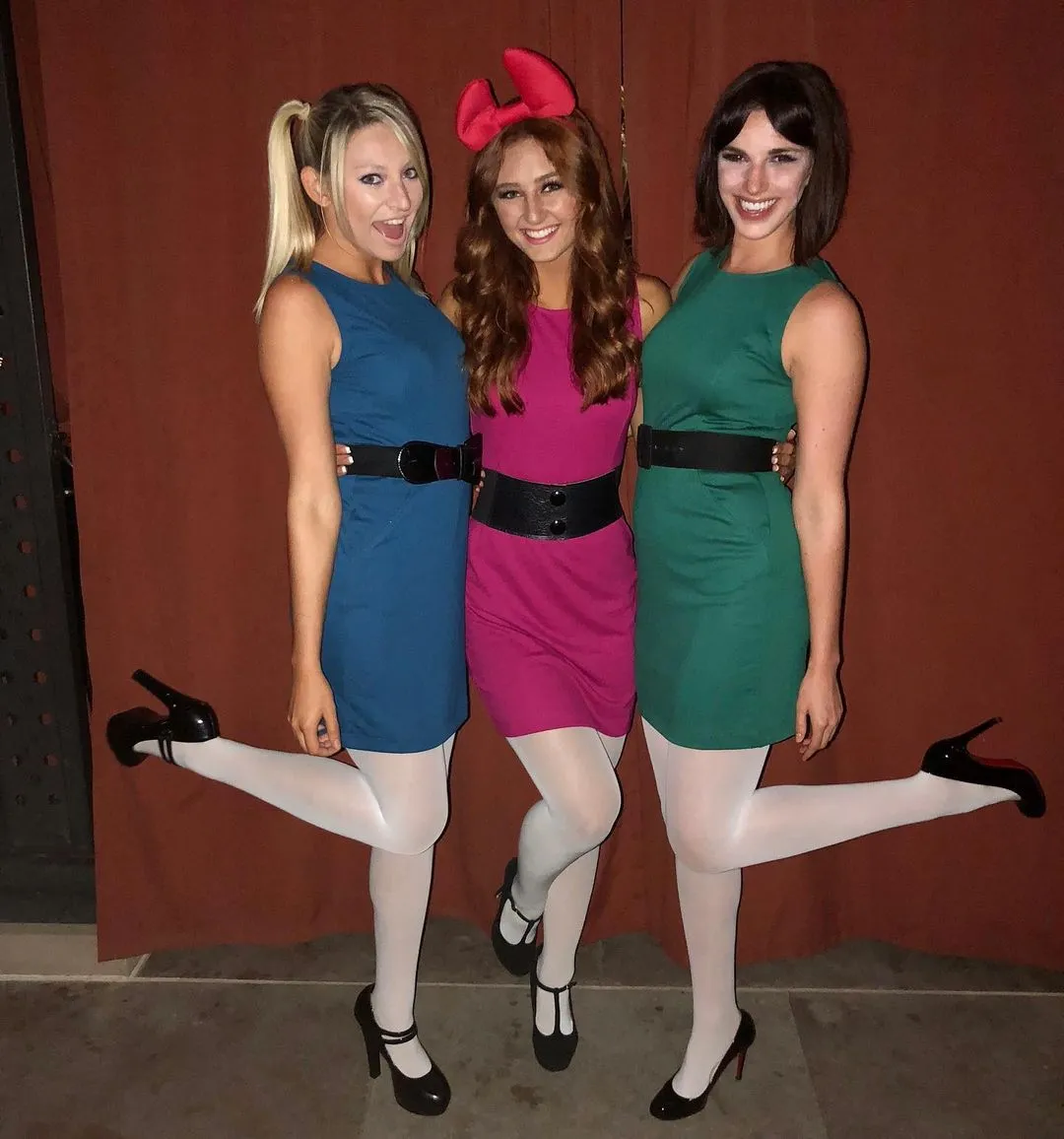 Or, you can get more creative (and sexy!) with these female trio costumes by wearing a cropped top with pants! This is a perfect female group costume idea for college!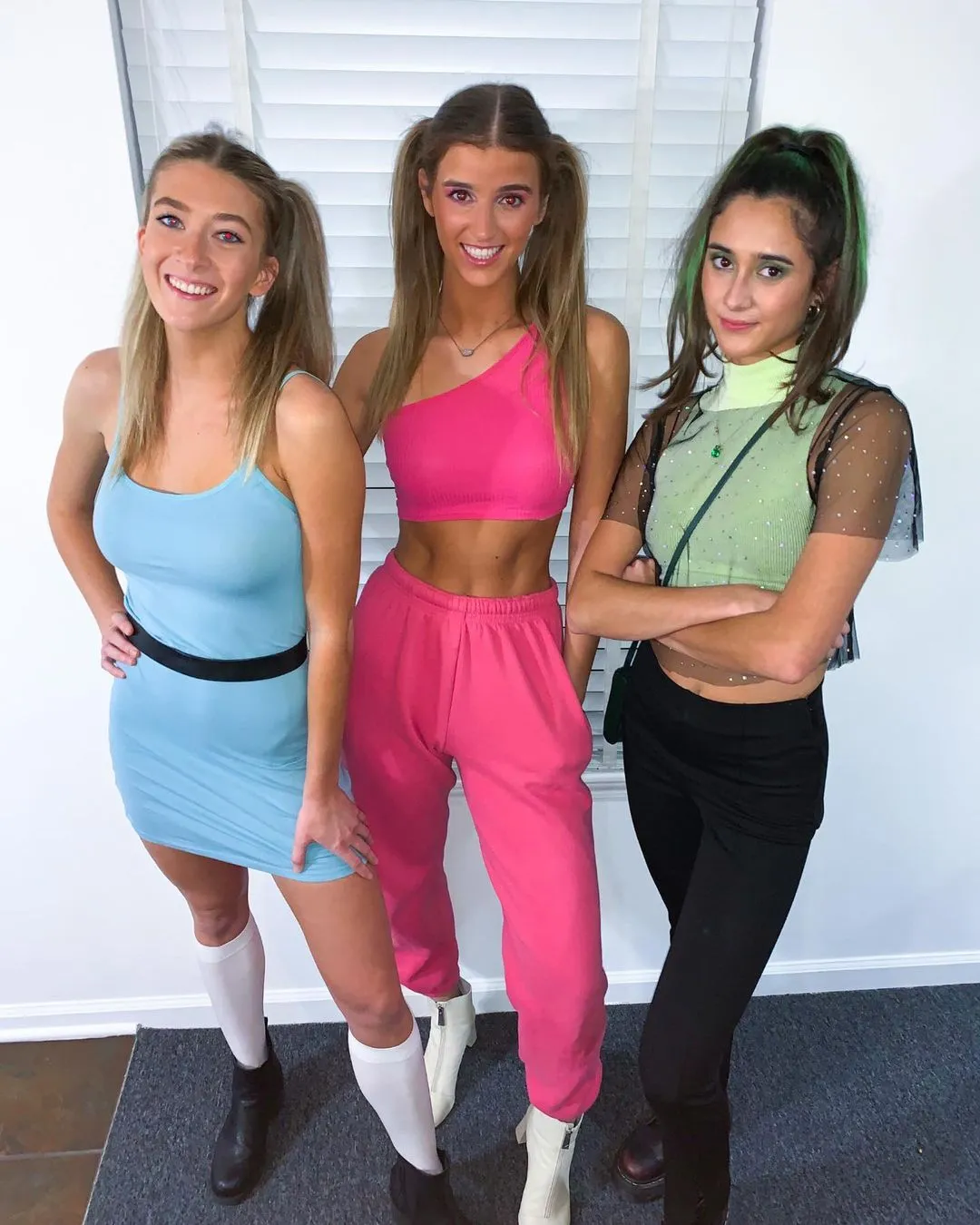 Charlie's Angels
Dressing up as Charlie's Angels is such a creative female trio Halloween costume idea! Become the crime-fighting trio by donning sleek, coordinated spy outfits. Think black jumpsuits, sunglasses, and toy guns for a classic "Charlie's Angels" look.
Cruella and Her Dalmatians
These DIY Cruella and 101 Dalmatian costumes are so cute and perfect for 3 girls! Perfect for Halloween parties too!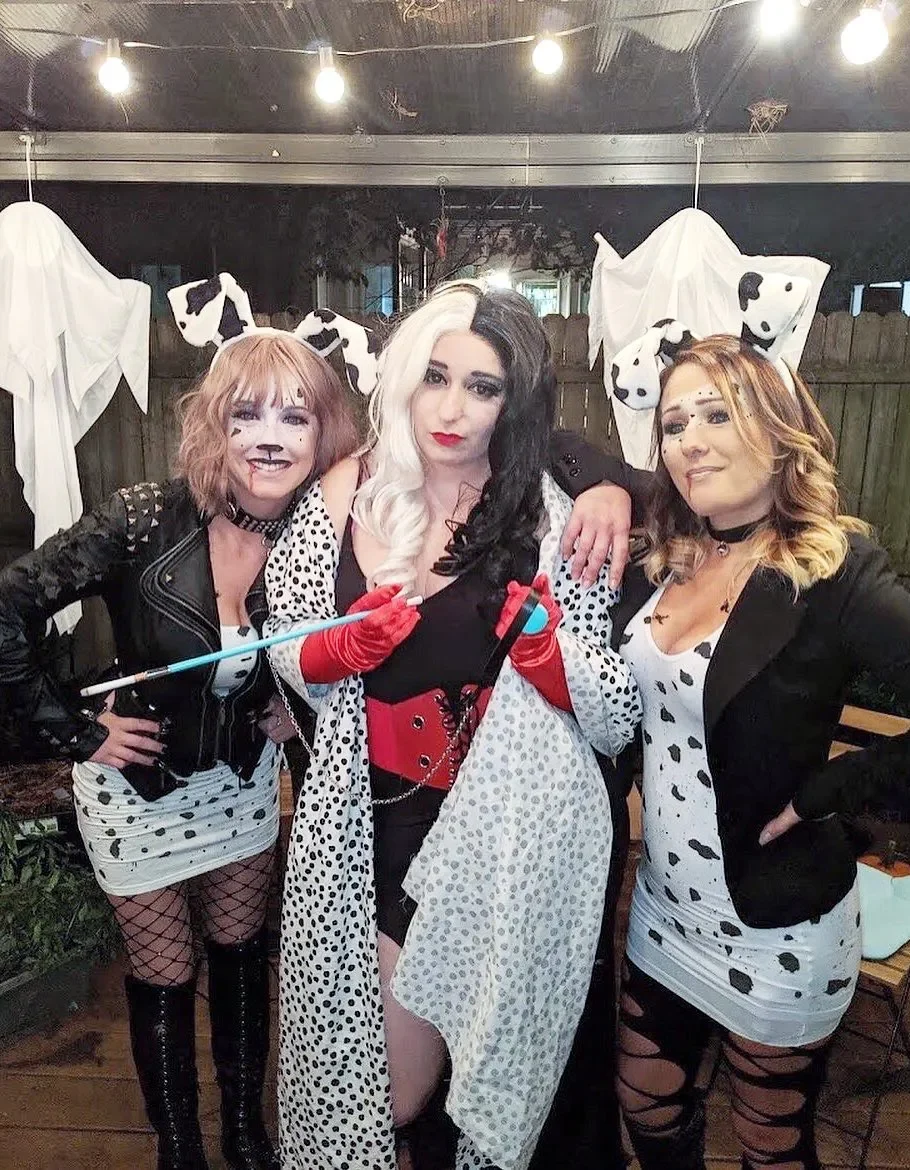 Cher, Dionne, and Tai from Clueless
For fun female group of 3 Halloween costumes, dress up as Cher, Dionne, and Tai from Clueless! Check out this Cher costume guide, this Dionne costume guide, and this Tai from Clueless costume guide!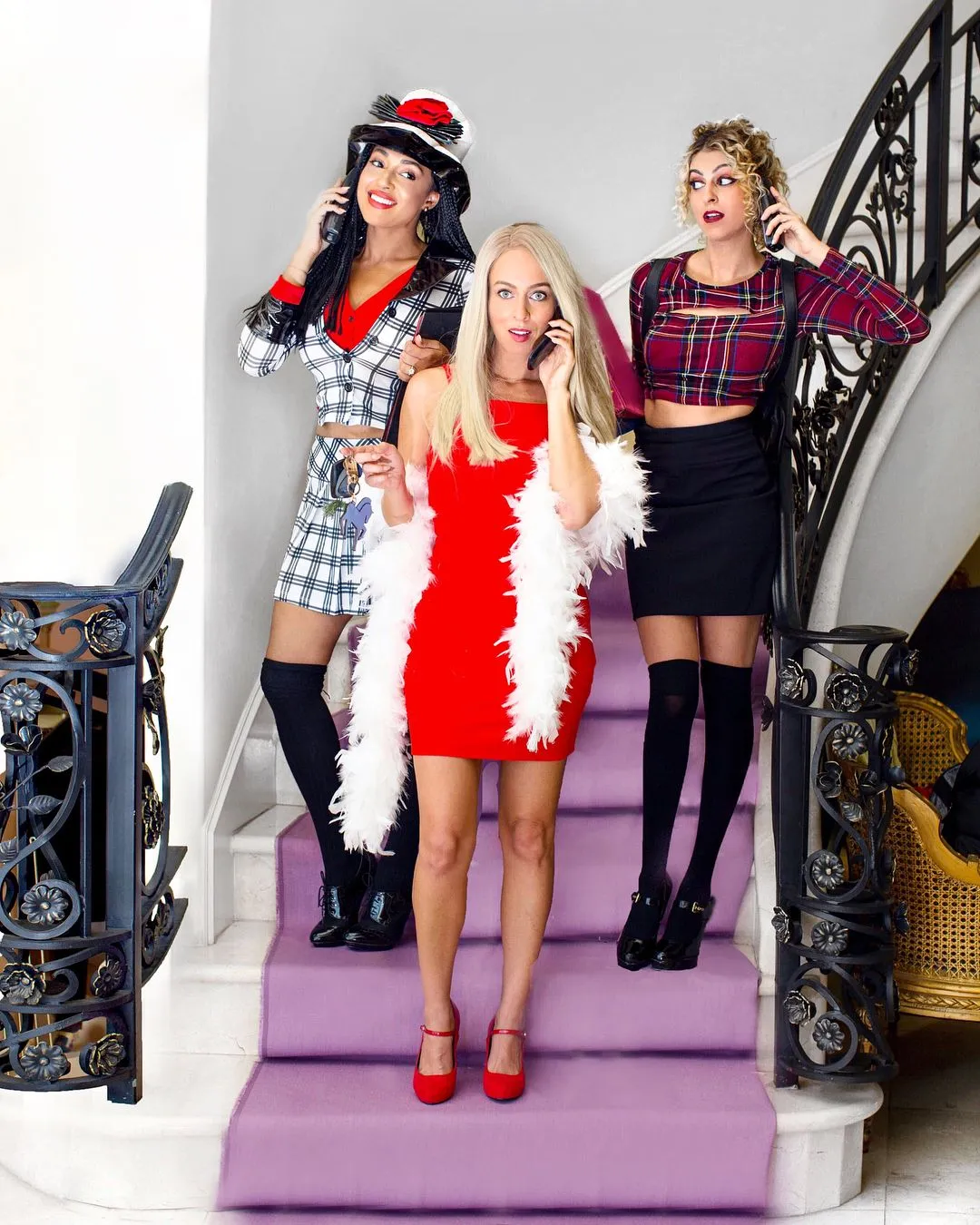 White Claw Girls
For an easy DIY Halloween costume for 3 girls, dress up as White Claw! All you need is a white tube top, these silver bootie shorts, this face glitter (from Amazon), and a print-out that says "White Claw Hard Seltzer" on paper.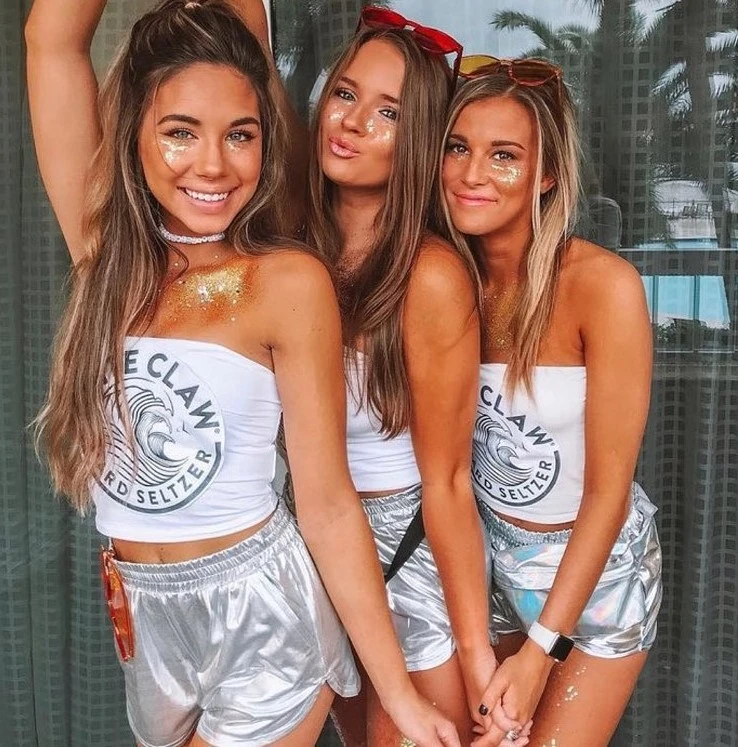 Queen of Hearts, Alice, and the Mad Hatter
These female group Halloween costumes are perfect for a group of 3 women! Plus, you can have fun getting cute heels and tights for each of these costumes. To really go all out, get some fun gloves for Alice and the Queen of Hearts. For the Mad Hatter, make sure to wear a cute and wild hat! You can buy these female group costumes from Party City or Amazon!
The Purge
If you want to scare people this Halloween, dress up as characters from The Purge! Wear dark clothing, eerie masks, and carry fake weapons such as toy guns or axes. Add faux bloodstains for a menacing and authentic Purge look. Check out this Pinterest page with The Purge costume ideas.
Hogwarts Witches
Dress up as Hermione, Ginny, and Luna from the "Harry Potter" series (or any Harry Potter student!). Wear robes, scarves, and house-themed accessories to represent Gryffindor, Ravenclaw, or whichever houses you prefer.
Zombie Dolls
Dress up as Zombie-inspired dolls and go all out with crazy makeup! Put your hair in pigtails and carry around baby dolls or a torn-up teddy bear!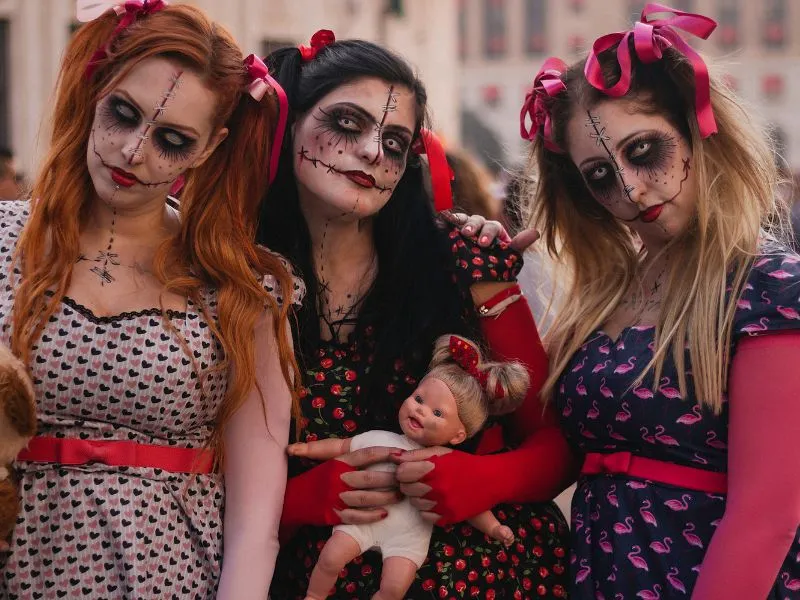 Disney Princesses
Pick your favorite Disney princesses like Cinderella, Belle, and Ariel. Wear their signature dresses and add props like glass slippers, books, or a fork (for Ariel). You may want to check out this guide with the best Disney princess costumes for women or this costume guide with the best sexy Disney princess costumes for ideas on what to wear!
Race Car Drivers
If you want an easy and sexy Halloween costume for three women, just dress up as Race Car drivers! This isn't necessarily a trio Halloween costume idea, but it will work for groups of 3, 4, 5, or even 6 women!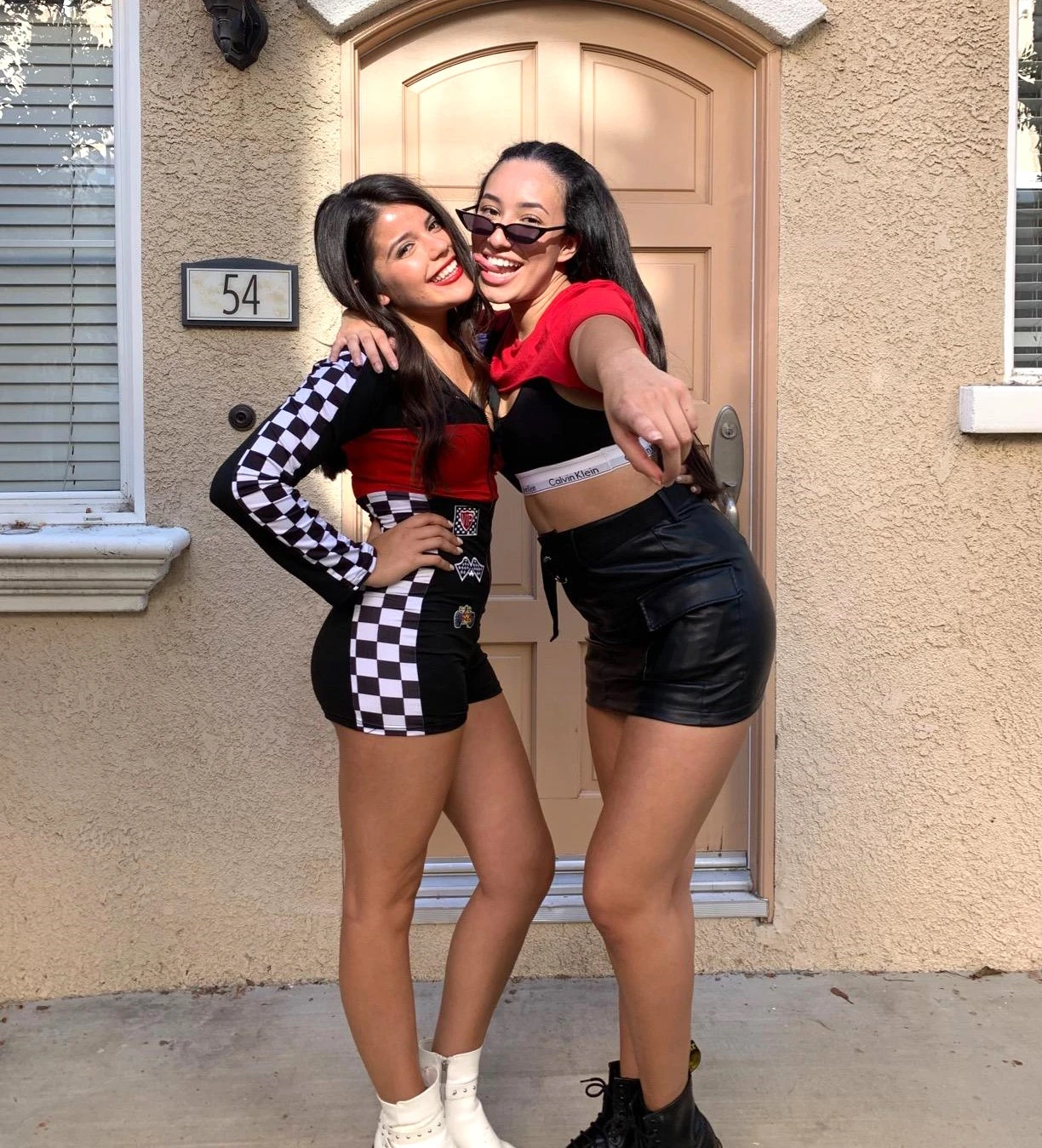 Get these Halloween costumes: Race Driver Driver Costume with Shorts
Star Wars Characters
Choose from Princess Leia, Rey, and Padmé Amidala, and dress up as strong and iconic Star Wars heroines. Don't forget lightsabers, blasters, or even droids as accessories. Or, you could even have one female dress up as an Ewok!
Copy this Female Trio Halloween Costume Idea: Princess Leia Costume | Rey Costume | Padme Amidala Costume for Women
The Three Blind Mice
Create a cute and classic trio by wearing matching mouse costumes with sunglasses, canes, and white gloves. Add mouse ears and tails to complete the look.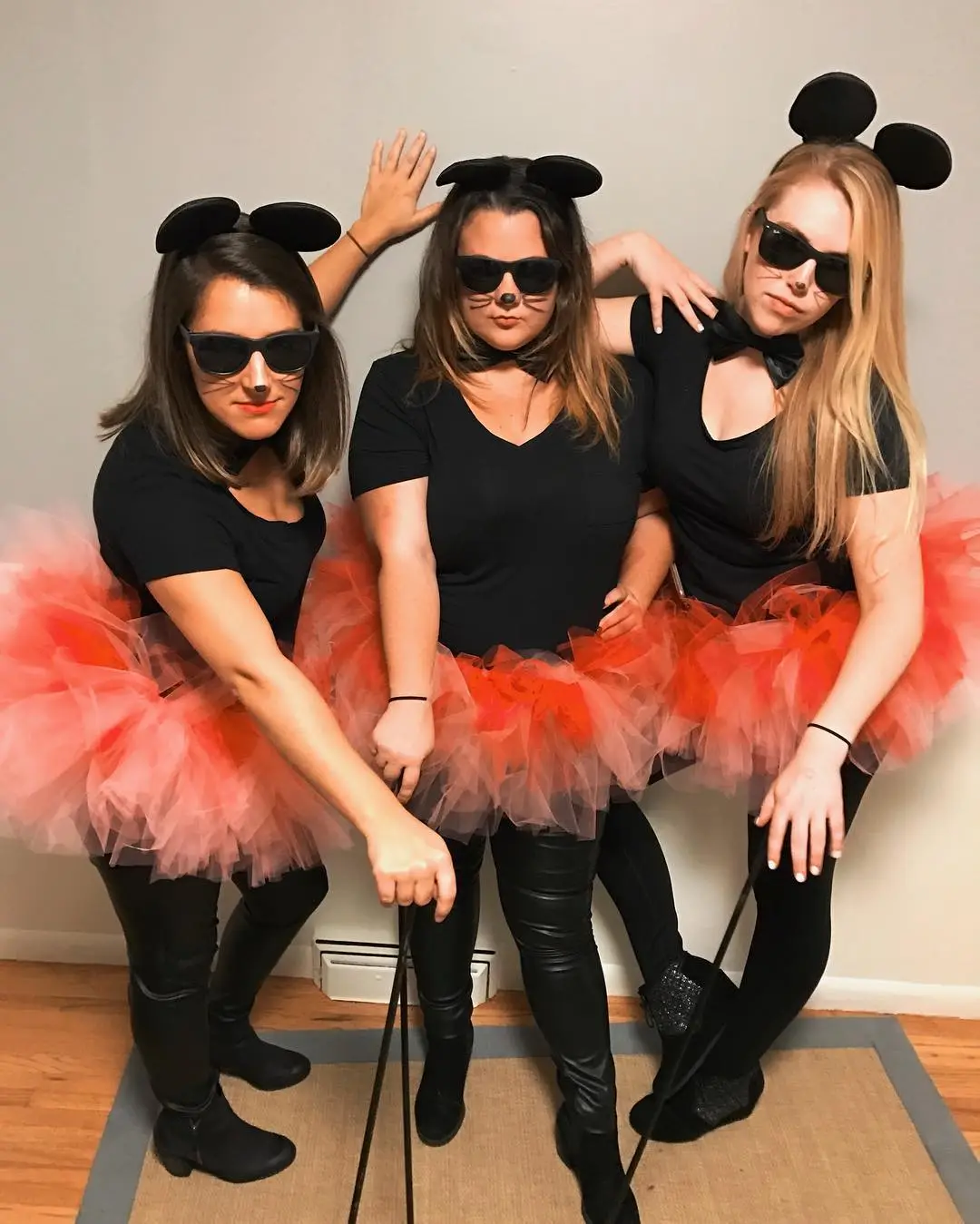 Gotham City Sirens
Become Harley Quinn, Poison Ivy, and Catwoman from the Batman universe. Wear their iconic outfits and accessories, and get into character with playful antics.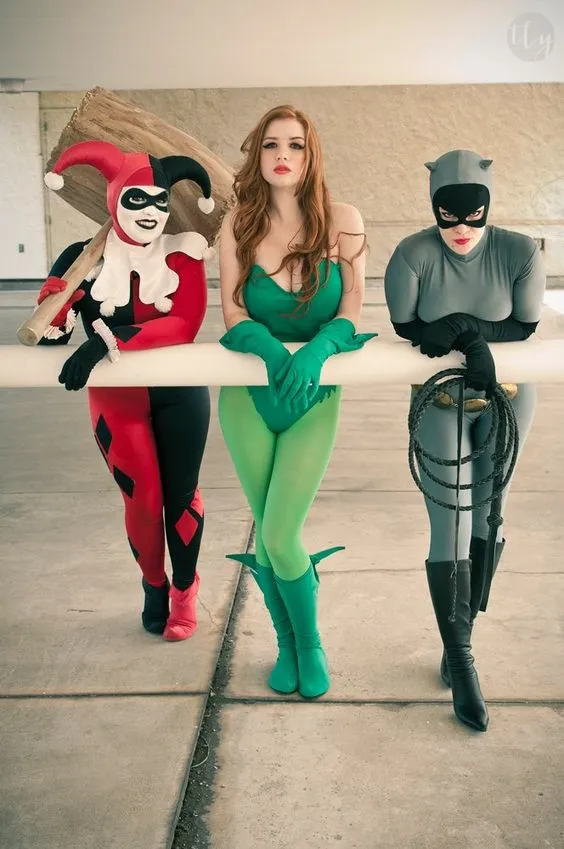 The Incredibles
Transform into Elastigirl, Violet, and Dash from "The Incredibles." Wear red superhero suits and black masks and cute black boots!
Disney Villains
Transform into iconic Disney villains like Maleficent, Ursula, and Cruella de Vil. Wear their distinctive costumes and add props such as a staff, a seashell necklace, and a faux fur stole.
The Golden Age of Hollywood
Pay homage to classic Hollywood actresses like Marilyn Monroe, Audrey Hepburn, and Grace Kelly. Wear vintage-style dresses, gloves, and elegant accessories.
The Goddesses of Olympus
Become Greek goddesses Athena, Aphrodite, and Artemis by wearing flowing white gowns, golden laurel wreaths, and carrying props like an owl, a bow and arrow, or a seashell.
Classic Monsters
Embrace classic horror with costumes inspired by the Bride of Frankenstein, the Mummy, and a Vampire. Use makeup and props to add eerie details.
The Pink Ladies from Grease
Channel the cool girls from the movie "Grease" by wearing matching pink jackets, black pants, and scarves. Don't forget the iconic attitude!
Alvin and The Chipmunks
These female trio Halloween costumes are so cute! To dress up as Alvin and the Chipmunks for Halloween in a group of three, have one person wear a red hoodie and add a large 'A' logo, another person in a green hoodie with a 'T' logo, and the third person in a blue hoodie with an 'S' logo to represent Alvin, Theodore, and Simon, respectively. Accessorize with fake chipmunk ears and tails!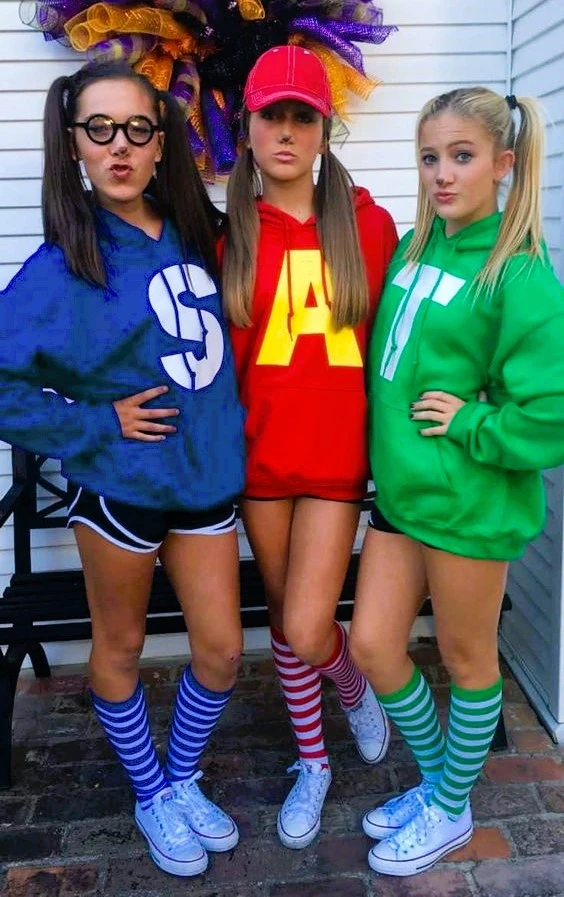 Cute Sailors
To dress up as three sailors for Halloween, each person should wear a classic navy-blue sailor suit with white stripes and a sailor hat. Accessorize with white gloves and black shoes to complete the nautical look, and you'll be ready to set sail for a fun Halloween adventure!
Superheroes
Go as a trio of superheroes like Wonder Woman, Supergirl, and Batgirl, or any combination of your favorite heroines. Don't forget their signature capes and emblems.
Famous Pop Stars
Emulate famous female pop stars like Madonna, Beyoncé, and Lady Gaga. Wear their iconic outfits from different eras and add wigs or makeup to match their looks.
Fruit Salad
Dress as different fruits. One person can be a strawberry, another a pineapple, and the third a banana, for example. Craft costumes using colorful clothing and accessories.
Classic Monsters
Become classic monsters like a vampire, a werewolf, and a mummy. Use makeup and costumes to create spooky yet stylish looks.
Classic Fairy Tale Trio
Dress up as characters from classic fairy tales like Cinderella, Snow White, and Little Red Riding Hood. Don their iconic dresses and props.
Famous Paintings
Replicate famous paintings with your group. Choose works like "Mona Lisa," "American Gothic," and "Starry Night" and dress accordingly.
Alice in Wonderland
Step into the whimsical world of "Alice in Wonderland." Dress as Alice, the Queen of Hearts, and the Cheshire Cat with vibrant and eccentric costumes.
Greek Goddesses
Embody the grace and power of Greek mythology by dressing as goddesses like Athena, Aphrodite, and Artemis. Use flowing gowns and props like spears or doves.
Charlie's Chocolate Factory
Take inspiration from Roald Dahl's "Charlie and the Chocolate Factory." One can be Willy Wonka, another an Oompa-Loompa, and the third Veruca Salt or Violet Beauregarde.
Scooby-Doo Gang
Recreate the Scooby-Doo gang with Daphne, Velma, and either Scooby-Doo or Shaggy. Wear their signature outfits and bring along Scooby snacks.
DC Superheroines
Go as iconic DC superheroines like Wonder Woman, Batwoman, and Supergirl. Emulate their costumes and add superhero accessories.
Olympic Gymnasts
Dress as gymnasts inspired by famous athletes like Simone Biles, Gabby Douglas, and Aly Raisman. Wear leotards and add gold, silver, or bronze accessories.
Conclusion: Best Female Trio Halloween Costumes
In conclusion, there are lots of options when it comes to female group Halloween costume ideas! Which idea is your favorite? Please leave a comment below to share!
More Female Group Halloween Costume Ideas
Female Group Halloween Costumes on Pinterest
Teen Girl Group Halloween Costume Ideas
Best Teacher Group  Halloween Costumes (from Very Easy Makeup)
Group Halloween Costumes on Pinterest
Sexy College Girl Group Halloween Costumes(from Very Easy Makeup)