12 Creative and Fun Family Circus Costume Ideas
This post may contain affiliate links, which means I may earn a commission if you decide to make a purchase through our links, at no cost to you. You may view the disclosure here.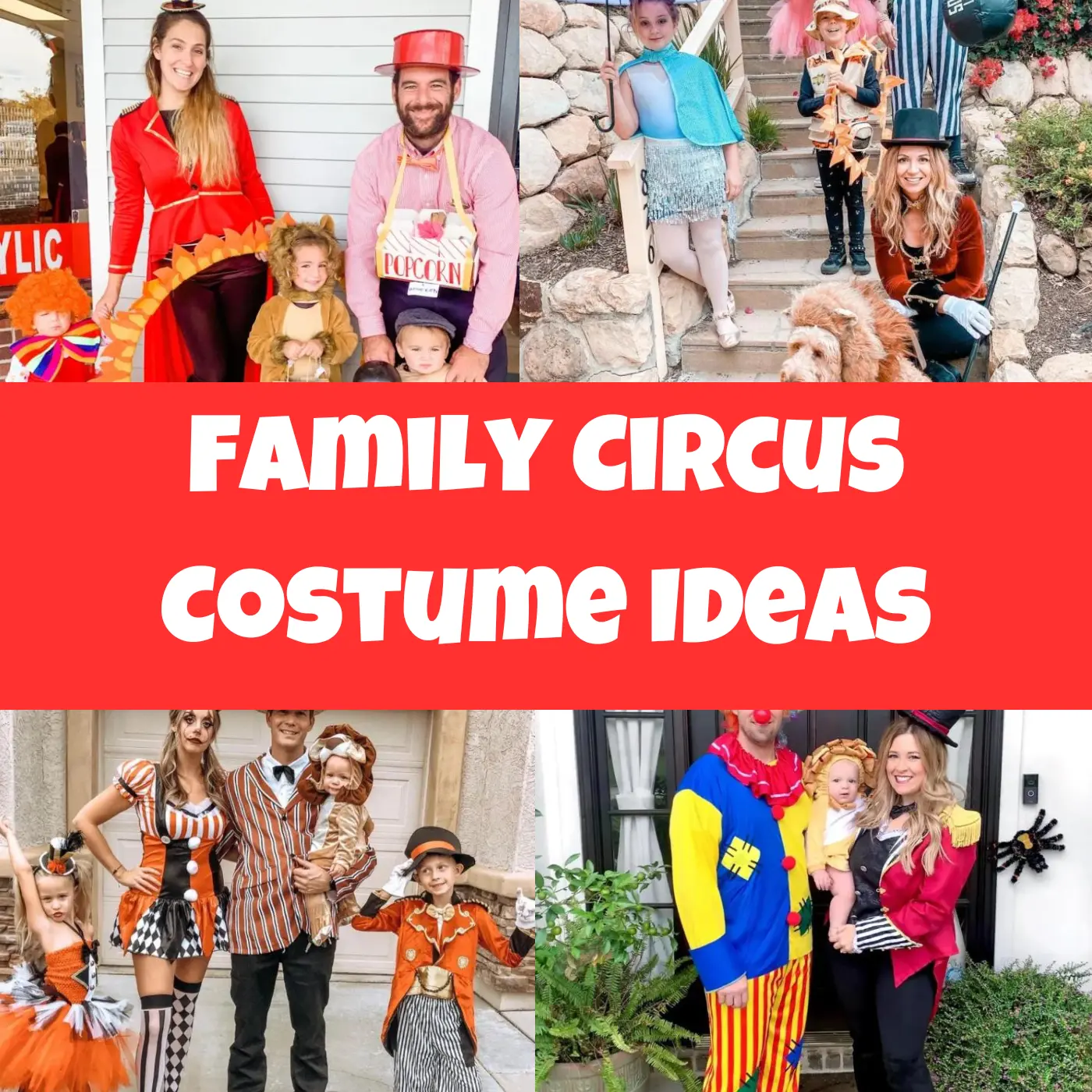 In recent years, family-themed costumes have become a Halloween tradition. What better way to celebrate this spooky season than by dressing up with your loved ones in a fun, cohesive costume? If you're looking for something unique and entertaining, consider embracing the circus!
This family Halloween costume guide is all about family circus costume ideas.
Family circus costumes are not only a blast to put together but also offer a wide range of options for creativity and individual expression.
Why Choose a Circus Theme?
The circus theme is an absolute crowd-pleaser for several reasons. First, it taps into the nostalgia of the traditional circus, a beloved and iconic part of entertainment history. Secondly, it's incredibly inclusive, accommodating family members of all ages, from the littlest tots to grandparents. Lastly, the circus theme works for families of 4, 5, and even 6 people!
Planning Your Family Circus Costumes
Before you dive headfirst into your circus costume adventure, it's a good idea to have a plan in place.
Below are a few tips to get you started.
Set a Budget for Costumes
Decide how much you're willing to spend on costumes and accessories. A circus-themed family costume can be as budget-friendly or as extravagant as you want it to be.
Decide on the Number of Family Members Participating
Knowing how many family members are joining in will help determine the scope of your costume planning. It could be just your immediate family, or you might be involving extended family members and close friends. The great thing about dressing up as members of a circus is that this family Halloween costume idea works for families of 4, families of 5, and even families of 6!
Choose Specific Circus Elements
Consider what aspects of the circus you want to highlight. Options include clowns, acrobats, animals, and ringmasters. Each choice can create a unique family ensemble.
Establish a Color Scheme
To achieve a cohesive look, decide on a color scheme that ties all the costumes together. This is especially helpful if you choose to have a mix of circus roles.
Creative Family Circus Costume Ideas
Now for the fun part…family circus costume ideas!!
Here are some exciting family circus costume ideas:
1. Wear Red, White, and Black Circus Costumes
Sticking with a color scheme is a great way to make your family circus costumes look cohesive! For this family circus costume idea, mom can be a clown, dad can be a ringleader, your baby can be a cute lion, and your kids can be ringmasters/ringleaders too!
2. Dress Up as a Ringleader, a Concession Seller, and Circus Members
For this family circus costume idea, have your kids be the stars of the show in a clown, strongman, and lion costume. Then, mom can be a ringmaster and dad can be a concession stand worker selling popcorn!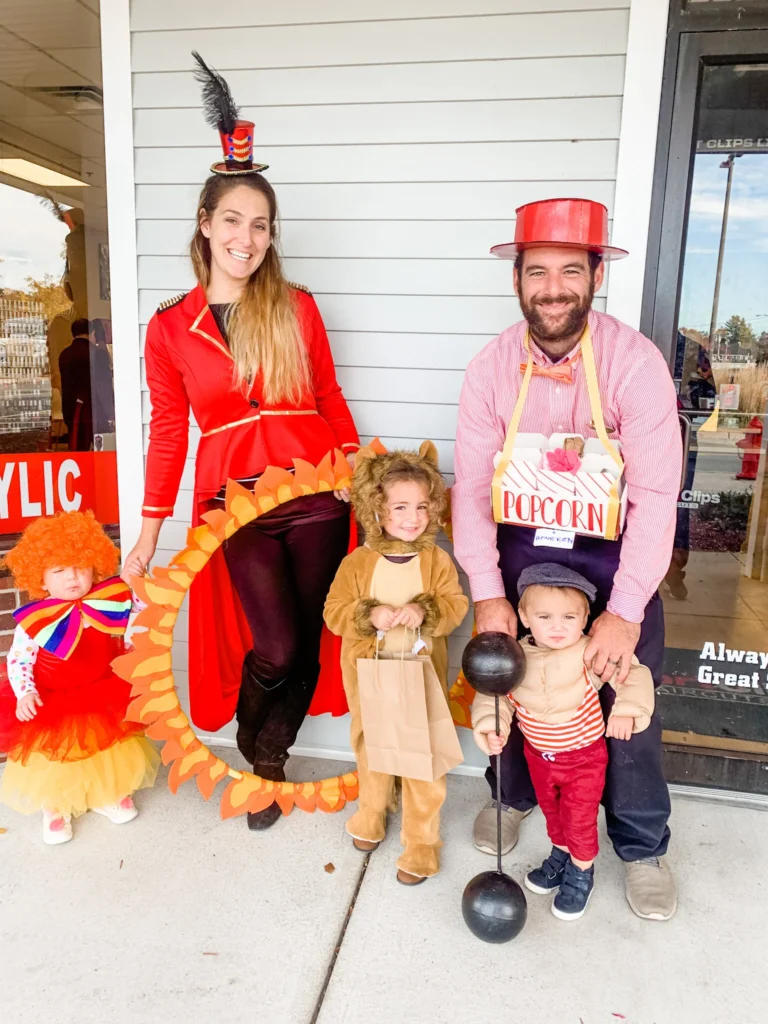 3. Be a Trio of 3: A Clown, a Ringmaster, and a Baby Lion
If you have a baby at home, then dressing up as members of the circus is one of the best family Halloween costumes with a baby! Have dad be a clown, mom be a ringleader, and your baby boy or baby girl be a cute lion! 🎪🤡🎡
4. Get Your Dog Involved
The great thing about wearing family circus costumes is that your dog can get involved...as a lion! Have your dog wear this cute lion mane, and then have the rest of the members of your family dress up as circus performers and workers! Dad can be a strongman, mom can be a ringleader, and your kids can be acrobats, concession stand workers, or lions!
View Strongman Costume on Amazon
5. Be Matching Ringmasters with a Lion!
If you have a baby at home, both you and your partner can dress up as ringmasters for Halloween. Then, have your baby be a cute lion for a cute family of 3 Halloween costume idea!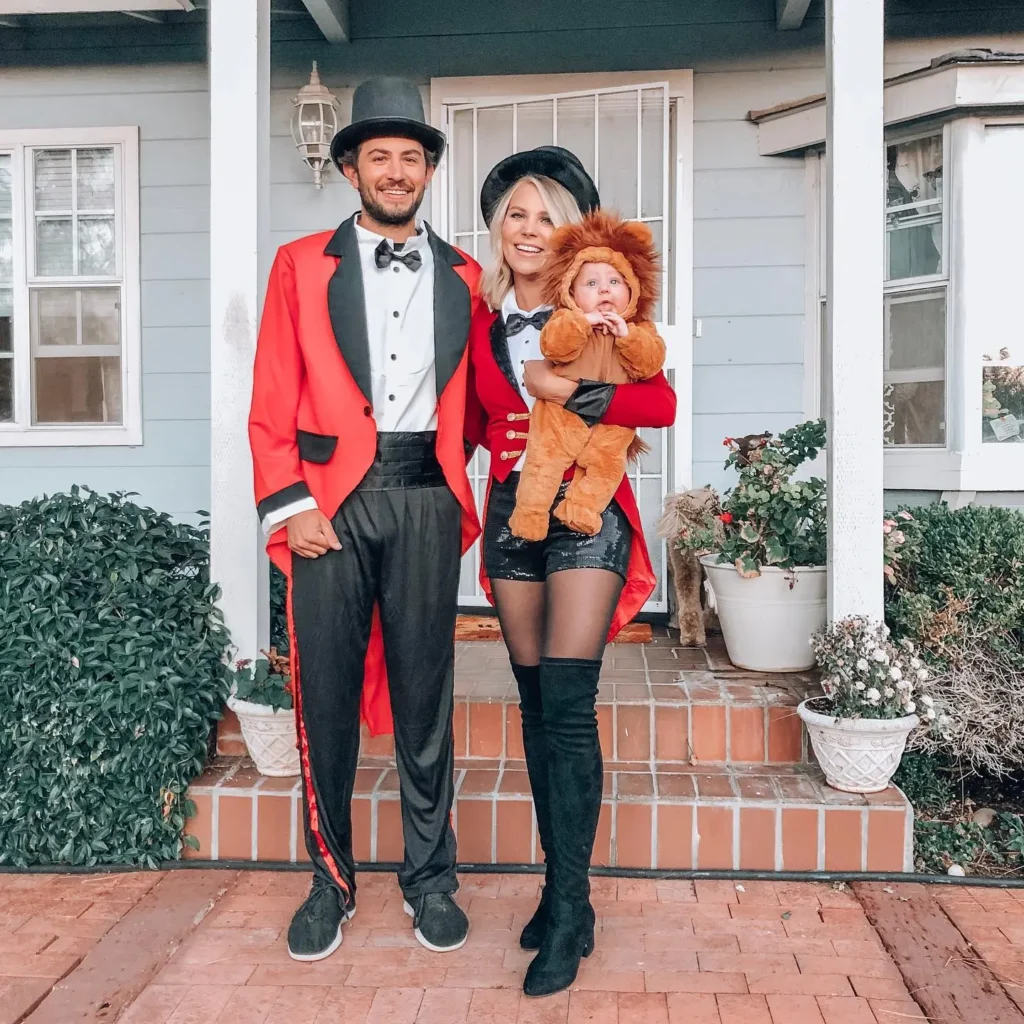 6. Have Your Kids Be the Stars!
If you have little kids at home, let them be the stars of the circus! You will love this cute strongman costume for toddler boys and this lion costume for babies! This is one of my favorite toddler and baby costume ideas! Then, have mom and dad be ringleaders, strongmen, or trapeze artists!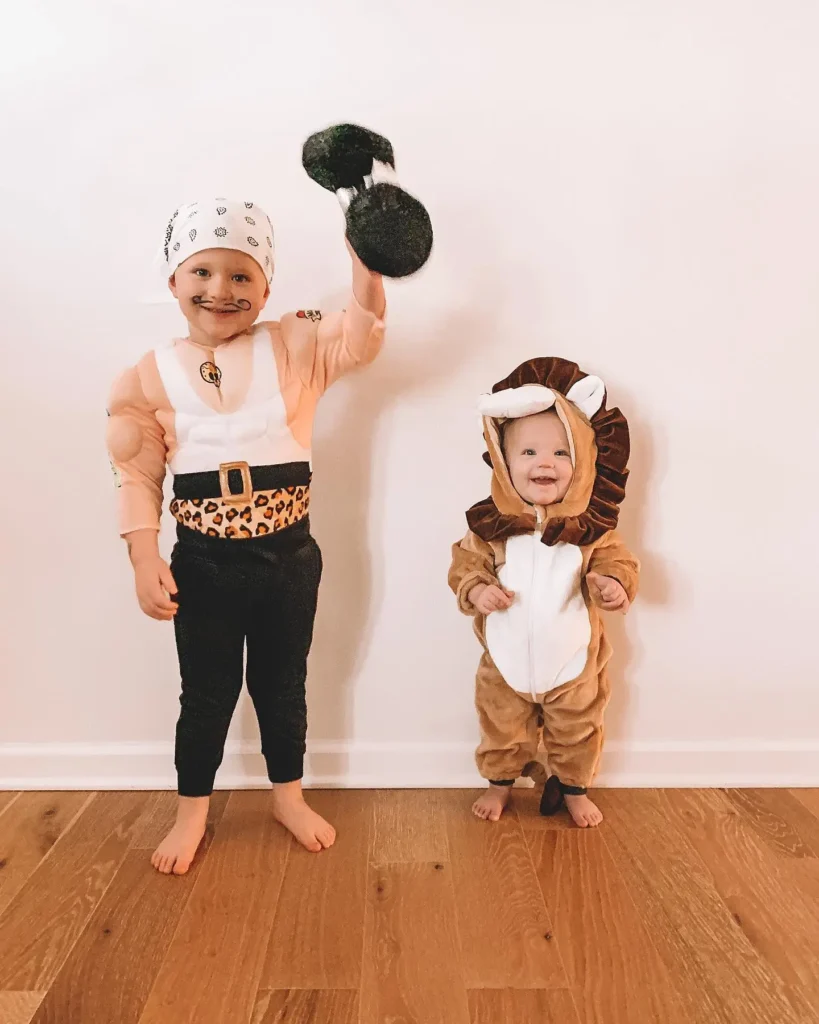 View Strongman Costume on Amazon
7. Be Scary Clowns
Amazon has lots of scary clown costumes for adults and kids alike! Try searching for "Creepy Clown Girls Costume" and "Creepy Clown Costume Women" on Amazon to get started. Below is one of the best creepy clown costumes for girls!
8. Dress Up as a Clown Troupe
Clowns are a classic circus staple. For a clown troupe costume, you can use colorful clown makeup and attire to create a whimsical and entertaining look. Look for clown costumes in red, green, blue, and yellow. Don't forget the oversized props like giant shoes and comically large glasses to complete the ensemble.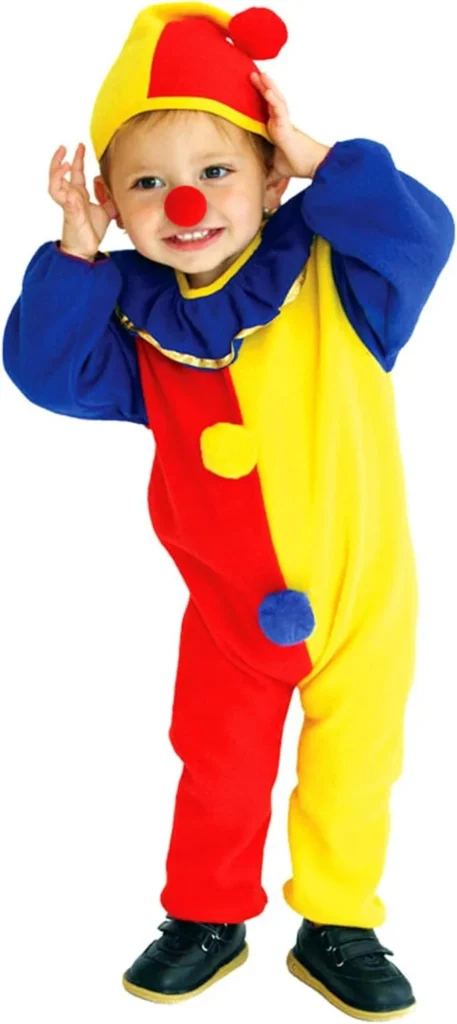 9. Be Athletic Acrobatic Stars
Transform your family into acrobatic stars by incorporating leotards, tutus, and aerial props like ribbons or hoops. Create a sense of awe and wonder with gravity-defying accessories and vibrant costumes. Dressing up as two acrobats is a great mother-daughter costume idea for Halloween too!
Get Family Acrobat Costumes:
10. Have Fun Dressing Up as an Animal Parade
Animal-themed costumes are another beloved aspect of the circus. Whether it's lions, tigers, or elephants, you can channel the spirit of the circus with these majestic and playful outfits.
11. Be a Ringmaster and Circus Performers
A ringmaster's attire is regal and grand, making it a fantastic choice for leading your circus-themed family ensemble. To complete the act, consider having family members take on various roles like jugglers, magicians, or even fire-eaters.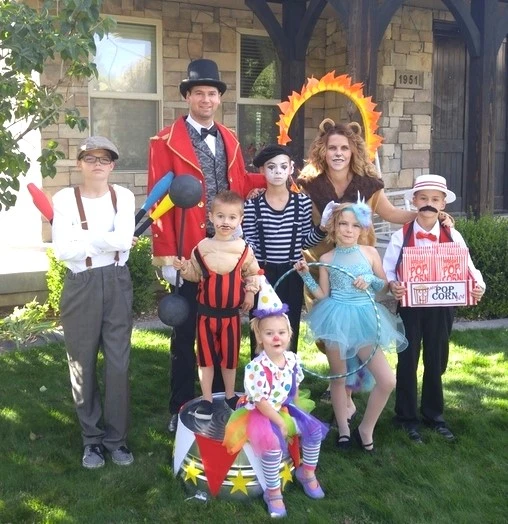 12. Include a Zoltar Fortune Teller
For family Halloween costumes that are guaranteed to win contests, include a Zoltar Fortune Teller! Check out this guide by Merrick's Art to copy this family circus costume idea!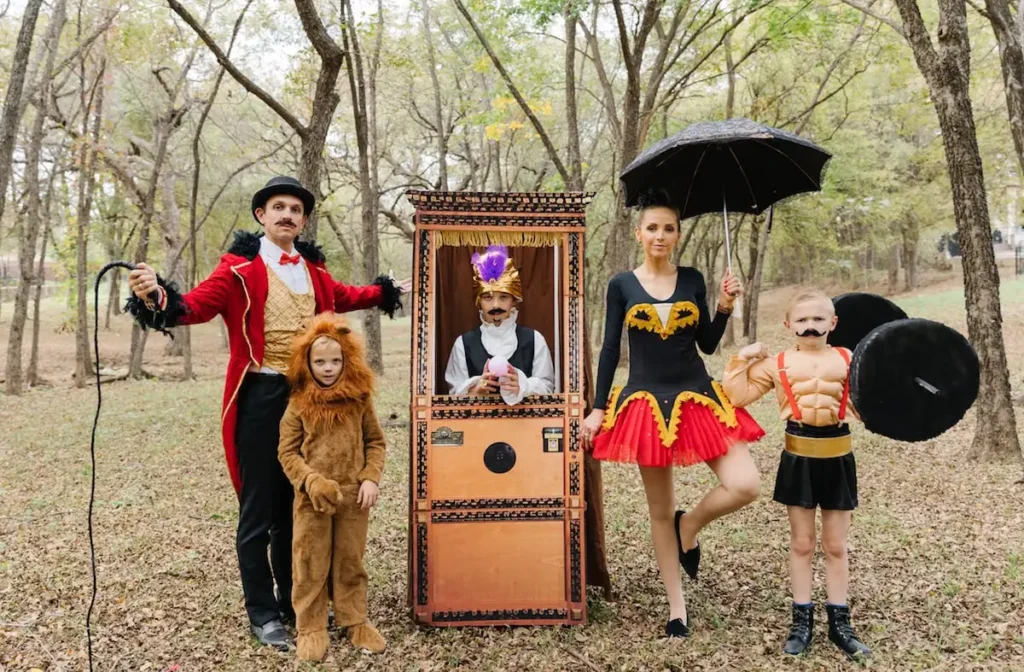 Couples Circus Costume Ideas
If you are searching for couples circus costume ideas, below are a few images to inspire you! Check out this guide with the best couples Halloween costumes for more ideas! You may also want to check out this Pinterest board with circus costume ideas for women and this Pinterest board with ringmaster costume ideas!
Ringmaster + Clown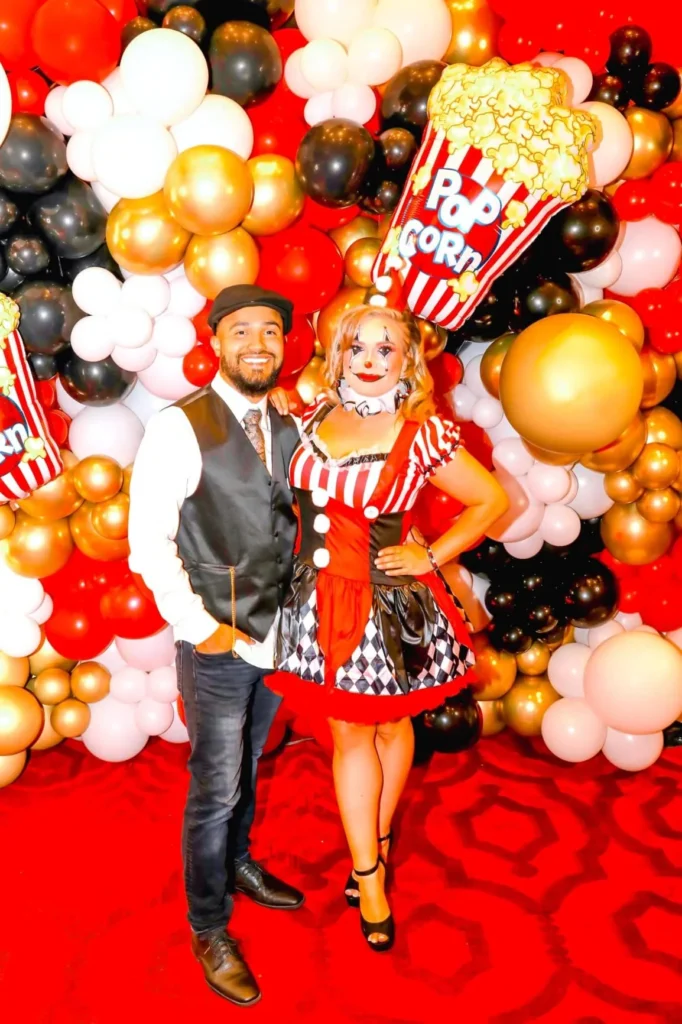 Where to Shop for Family Circus Costumes
It can be a bit tricky to figure out where to buy Halloween costumes for the whole family, but it doesn't have to be! Below are my top recommendations on where to shop.
Amazon
Amazon makes it super easy to shop for Halloween costumes for the entire family online. Just search "family circus Halloween costumes" and you'll find circus costumes for mom, dad, kids, babies, and even your dog or cat! You'll also find circus costume accessories like a ringmaster top hat headband and circus clown noses.
Spirit Halloween
Spirit Halloween has so many circus costumes for adults and kids! For example, Spirit Halloween has over 15 circus costumes just for women.
Etsy
Etsy has some really unique circus Halloween costumes for adults and kids. For example, I found a burlesque ringmaster costume for women on Etsy, a cute toddler strongman costume, and the most adorable ringmaster jacket and hat for a baby on Etsy!
Thrift Stores
Many thrift stores have sections with Halloween costumes come September/early October. Just make sure to shop early, as the best Halloween costumes sell out quickly! I personally LOVE shopping at Savers (in the Northeast) for Halloween costumes and Halloween costume accessories.
I'm also a big fan of supporting The Salvation Army too!
Local Craft Stores and Fabric Shops
If you are crafty, you can always make your own DIY family circus costumes! Many craft stores like Michaels and Jo-Annes have sewing patterns for DIY Halloween costumes.
eBay
eBay sometimes has really unique and cheap Halloween costumes, including family circus costumes! Don't forget to check out eBay or Facebook Marketplace.
Conclusion
In conclusion, family circus costumes offer a unique and entertaining way to celebrate Halloween. The circus theme allows for creativity and inclusivity, making it a fantastic choice for family ensembles. Whether you choose to make your own costumes or buy pre-made ones, the key is to have fun and enjoy the process.
After all, the circus is all about entertainment, and your family can be the stars of the show.
Have a great time dressing up as members of a circus for Halloween!
More Circus Costume Ideas
Circus Halloween Costume Ideas on Pinterest
More Family Halloween Costume Ideas
Best Family of 5 Halloween Costume Ideas
Best Family and Dog Halloween Costumes
Best Peter Pan Family Halloween Costumes
See All Family Halloween Costume Ideas