11 Spooktacular Toddler Sibling Halloween Costumes
This post may contain affiliate links, which means I may earn a commission if you decide to make a purchase through our links, at no cost to you. You may view the disclosure here.
Looking for adorable and easy Halloween costume ideas for two toddler siblings?
This Halloween costume guide is all about easy and affordable toddler sibling Halloween costumes.
You'll find toddler sibling Halloween costumes for two sisters or two brothers, toddler sibling costumes for brother and sister, and cute toddler and baby brother or baby sister Halloween costumes. From cute and cuddly animals to superhero duos, the possibilities are endless.
So, get ready to create some spooktacular memories. Let's dive in!
Best Toddler Sibling Halloween Costumes
When it comes to choosing the best Halloween costumes for toddler siblings, you have so many options!
Below are a few of my favorite toddler sibling costume ideas for Halloween. You'll find cute Disney sibling costume ideas for toddlers too!
1. Captain America and Captain Marvel
View Captain America Costume on Amazon
Captain America Toddler Costume | Captain Marvel Costume Girl
Captain America and Captain Marvel toddler sibling Halloween costumes are perfect for siblings who love superheroes. Your toddlers will love teaming up for a fun night of trick-or-treating in these costumes!
2. Edna Mode and Jack-Jack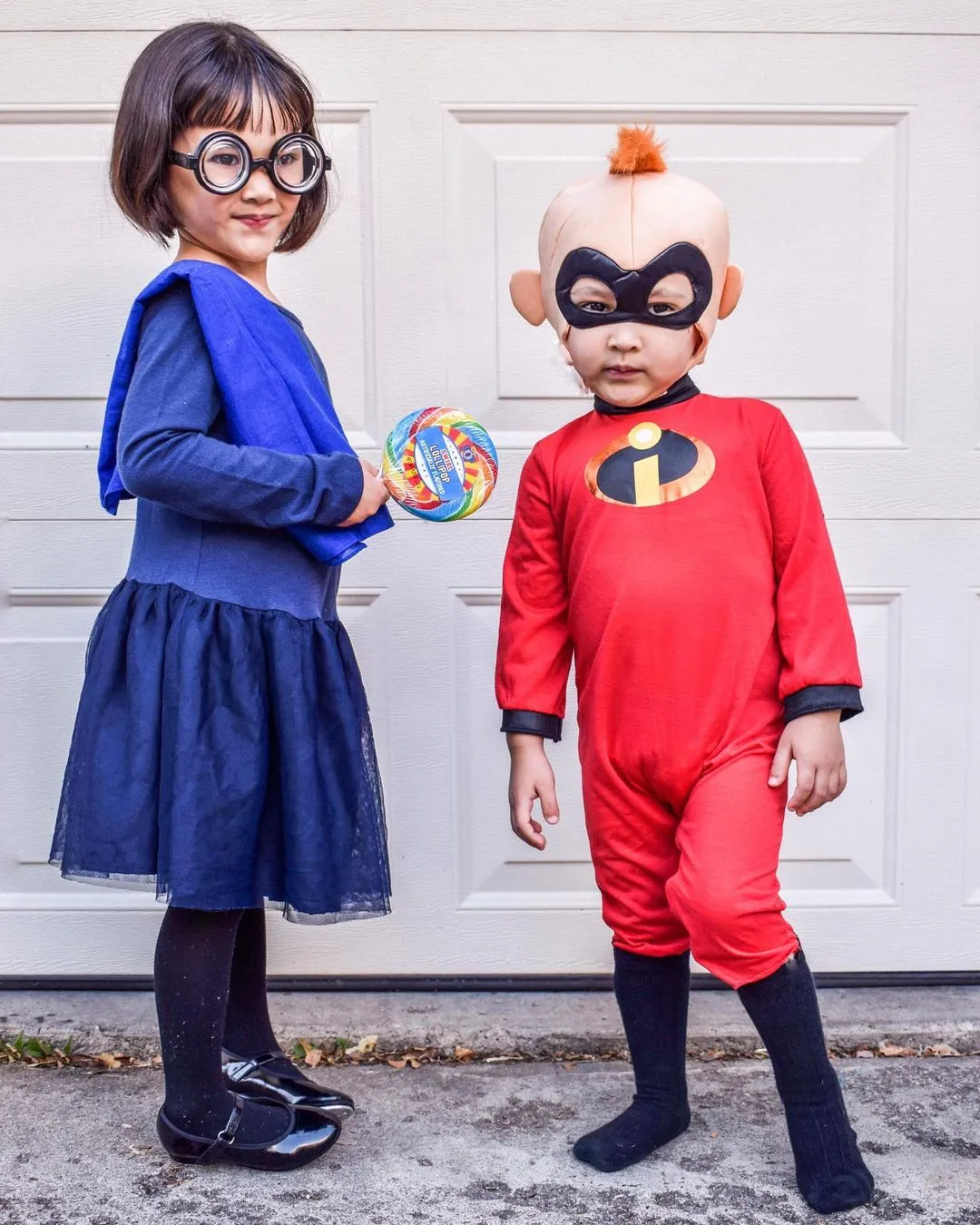 View Jack-Jack Costume on Amazon
Edna Mode Costume Toddler | Jack-Jack Costume Baby
These Edna Mode and Jack-Jack toddler sibling Halloween costumes are great if your kids love "The Incredibles".
These toddler sibling costumes feature the stylish and quirky outfit of Edna Mode and the adorable and powerful superhero suit of Jack-Jack.
3. Sally and Jack Skellington from The Nightmare Before Christmas
View Jack Skellington Costume on Amazon
Jack Skellington Costume Baby | Jack Skellington Costume Toddler | Sally Costume Toddler Girl
These The Nightmare Before Christmas toddler sibling costumes are fun and unique!
4. Elsa and Olaf from Frozen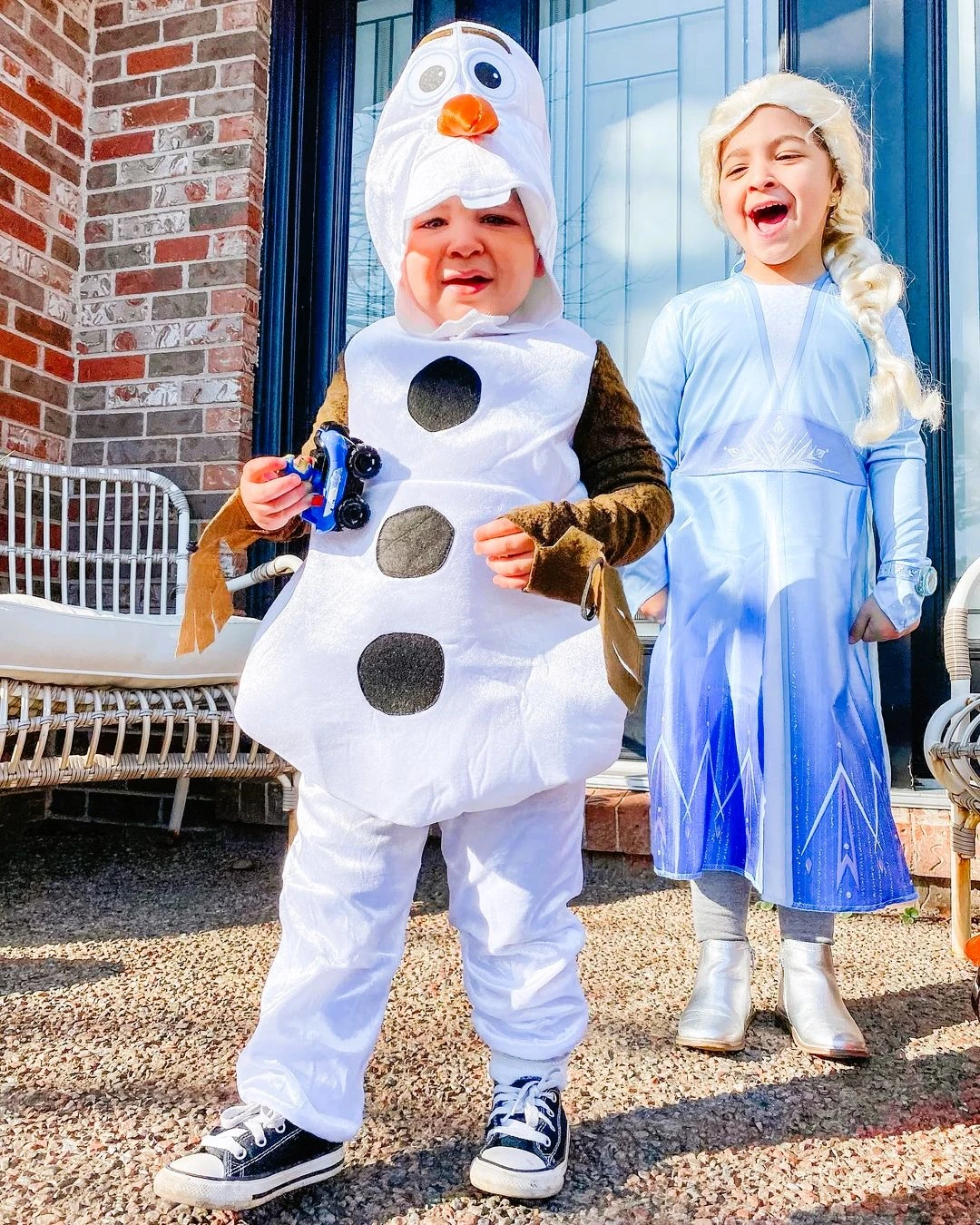 Olaf Costume Toddler | Elsa Costume Toddler Girl
These cute toddler sibling costumes are perfect for brother and sister toddler siblings! Your kids will love these fun sibling costumes for toddlers.
5. Rapunzel and Pascal from Disney's Tangled
Rapunzel Costume Girl | Pascal Costume Toddler
These cute and unforgettable sibling Halloween costumes are adorable! Another twist of this toddler sister and brother costume idea is to dress up as Rapunzel and Flynn Rider.
6. Bo Peep and Woody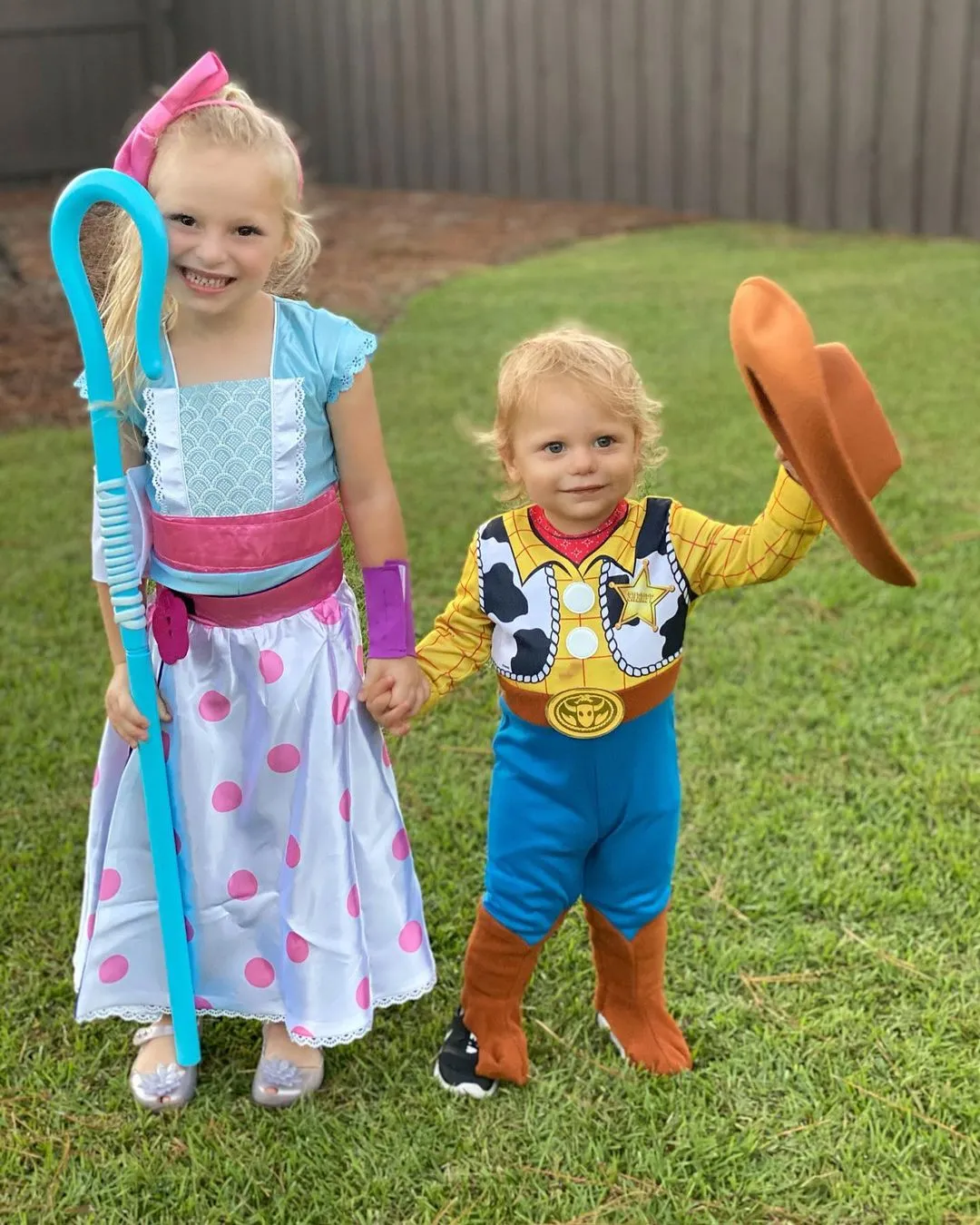 View Bo Peep Costume on Amazon
Bo Peep Costume | Woody Costume for Toddlers
Your toddler girl will love dressing up as the sweet and confident Bo Peep from Toy Story. Your toddler boy will love this cute Woody costume too!
7. Astronauts
View Astronaut Costume on Amazon
Astronaut Costume for Toddlers | NASA Costume for Toddlers
These toddler sibling Halloween costumes are perfect if our kids love outer space or NASA. Your kids will be ready to blast off into fun on Halloween night in these costumes. Plus, these astronaut costumes for toddlers will keep your kids warm.
8. Harry Potter and Hedwig
View Harry Potter Costume on Amazon
Harry Potter Costume | Hedwig Costume
These Hogwarts-inspired Halloween costumes for toddlers are so magical and fun! If your kids love all things related to the Wizarding World, they will love these toddler sibling costumes for Halloween.
9. Moana and Stitch from Disney's Lilo and Stitch
Moana and Stitch toddler sibling Halloween costumes are perfect if your kids love Lilo and Stitch.
These Disney sibling costumes feature the adventurous and determined Moana and the playful and mischievous Stitch. Your kids will love these cute Halloween costumes!
For a family of 4 costume idea, you could dress up as Sully and Mike Wazowski too!
View Baby Stitch Costume on Amazon
Baby Stitch Costume | Toddler Stitch Costume | Moana Costume for Toddlers
10. Cindy Lou and The Grinch
These toddler sibling Halloween costumes are so, so cute and unique!
11. Mario and Luigi
If you have two toddler boys at home, then dressing up as Mario and Luigi would be such a cute toddler sibling Halloween costume idea!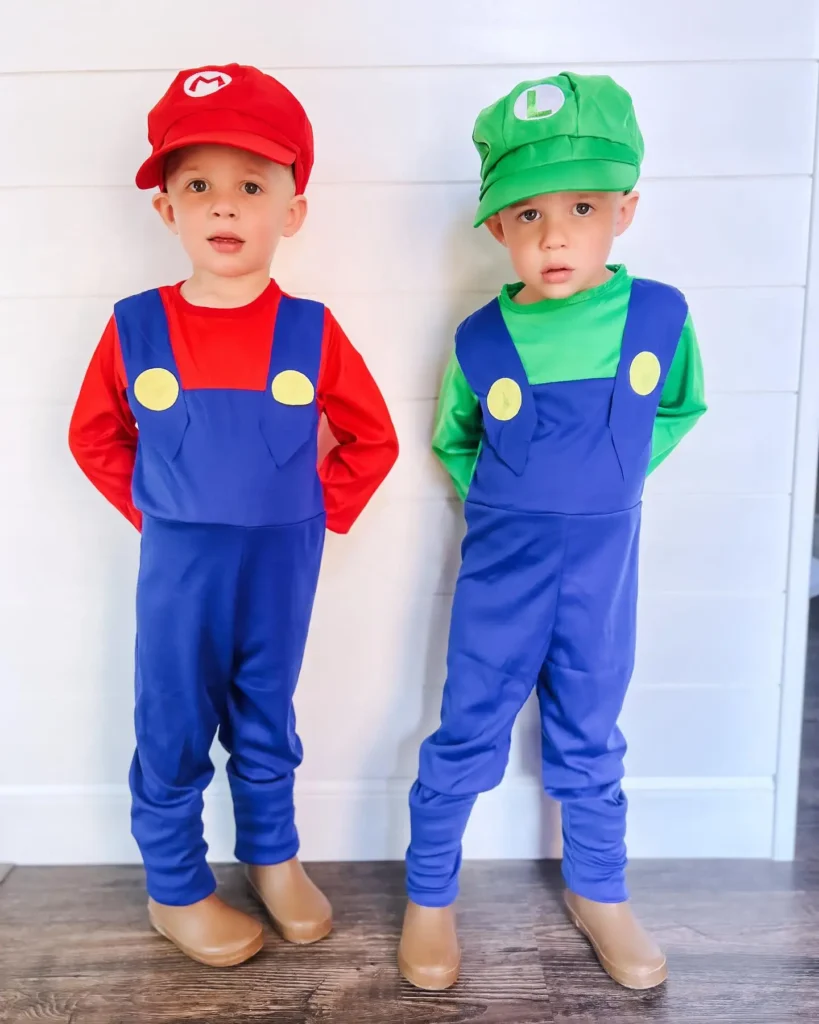 Tips for Choosing Toddler Sibling Halloween Costumes
When choosing Halloween costumes for toddlers, keep these tips in mind.
Ask Your Toddler What They'd Like To Dress Up As
Is your little one a die-hard fan of a certain superhero or TV show? If the answer is yes, then a character costume is the way to go this Halloween! Let your toddler's imagination run wild and choose a costume that reflects their favorite character. Not sure which one to pick? Just ask your little one what character they'd like to dress up as for Halloween.
Consider the Weather: Halloween Can Be Cold!
Halloween night can be a spooky and chilly affair, especially in certain regions. If you live in one of these areas, it's important to choose a toddler Halloween costume that will keep your little one warm and comfortable while trick-or-treating. For boys, costumes that come with onesies or pants are ideal, while girls can rock a jacket or a cape. Another option for toddler girls is to pair tights with a dress costume.
Chose Comfortable Toddler Sibling Costumes
While Halloween costumes can be a lot of fun, some can be uncomfortable and itchy, especially for little ones. When selecting sibling costumes for your toddlers, it's important to choose outfits that are comfortable and made from soft, breathable materials. Look for costumes that are loose-fitting or have a little stretch to them
Where to Buy Toddler Sibling Costumes for Halloween
Are you ready to check one more thing off of your to-do list, and buy toddler sibling Halloween costumes?
In addition to Amazon, Etsy, Spirit Halloween, and Target are great places to shop for toddler sibling costumes.
Pottery Barn Kids also has super comfortable and cute Halloween costumes for toddlers and toddler siblings.
More Sibling Halloween Costume Ideas
Toddler and Baby Halloween Costumes
Best Sibling Halloween Costumes
Disney Sibling Halloween Costumes