17 Best Pitbull Halloween Costumes for Your Dog
This post may contain affiliate links, which means I may earn a commission if you decide to make a purchase through our links, at no cost to you. You may view the disclosure here.
Pitbull Halloween Costumes
Are you searching for a Pitbull Halloween costume for your dog?
The best Pitbull dog costumes include a mix of funny dog costumes, cute Pitbull costumes, and funny Pitbull costumes.
If you are searching for Pitbull dog costume ideas, you have come to the right spot.
This dog Halloween costume guide is all about the best Pitbull Halloween costumes.
Without further ado, let's dive right in!
Best Pitbull Costumes for Halloween
These dog Halloween costumes are perfect for Pitbulls and are easy to buy online on Amazon, Chewy, and Etsy. Woot! Woot!
1. Robin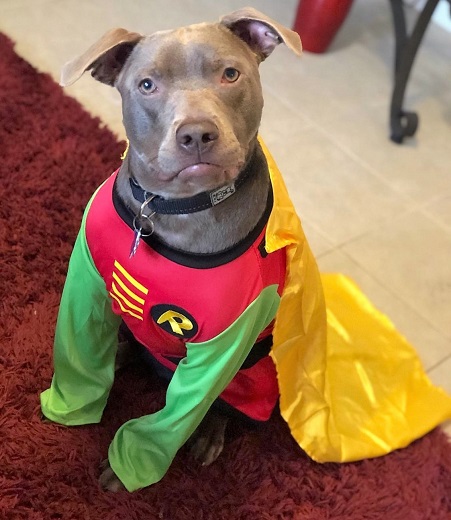 This Robin Halloween costume is perfect for Pitbulls. Order a size XX-Large. This is also a great dog Halloween costume for Golden Retrievers.
2. Hula Girl
Your Pitbull will look so cute in this Hula Girl Halloween costume on Halloween!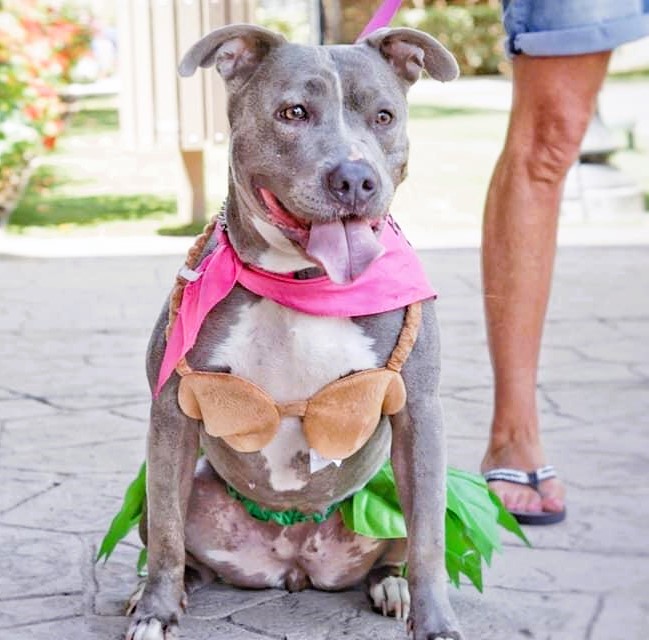 There are two versions of this hula girl Pitbull costume on Amazon. Both are cute!
3. Superman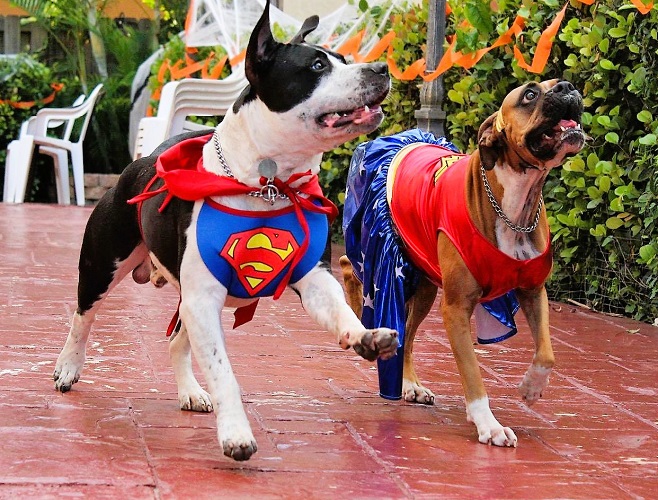 This Superman Costume looks great on Pitbulls! If you have two dogs, you could dress them up as Superman and Superwoman!
4. Bat
This Pitbull Halloween costume is perfect if your dog hates costumes. These bat wings can be attached to your Pitbull's harness.
5. Mermaid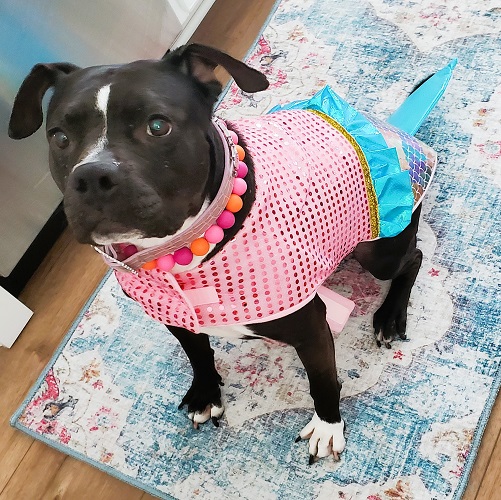 This Pitbull costume will be perfect for your pup! A size X-Large will fit a Pitbull that is 50+ lbs.
6. Slytherin / Harry Potter
This Pitbull Halloween costume is very cute!
7. Joker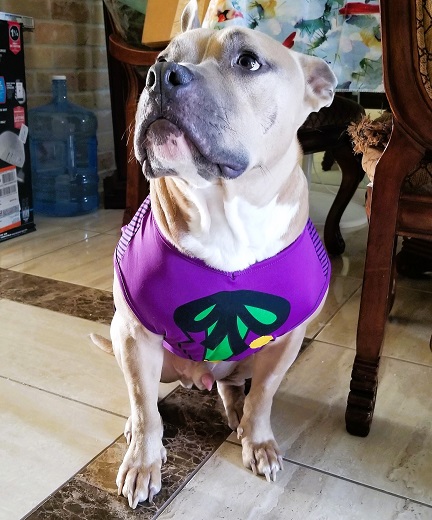 This Pitbull Halloween Joker costume is affordable (under $25!) and comes in sizes up to XL.
8. Batman
Your Pitbull will look amazing in this Batman dog Halloween costume.
9. Unicorn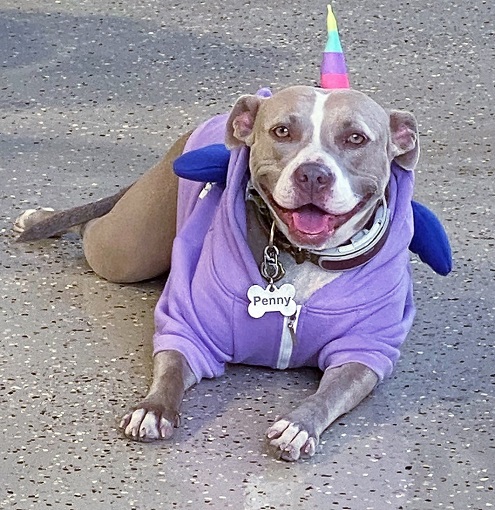 This female Pitbull is wearing a size large in this unicorn dog costume, but you may want to order an X-Large or an XX-Large.
10. Rooster
This Pitbull Halloween costume of a rooster is hilarious! This Halloween costume is also perfect for dogs that hate costumes.
11. Supergirl
This Supergirl Pitbull costume is so adorable!
12. Cute Pumpkin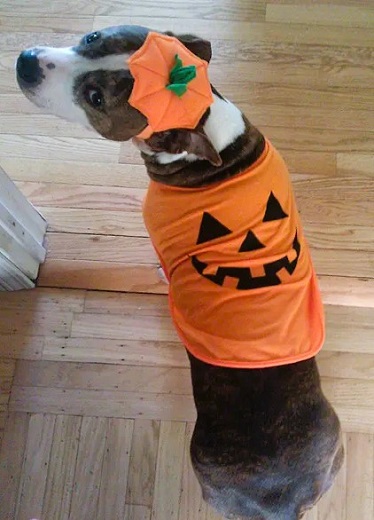 This pumpkin Halloween costume is super cute and soft!
13. Giraffe
This giraffe costume is perfect for Halloween, Christmas, and the wintertime!
14. Deadly Doll / Chucky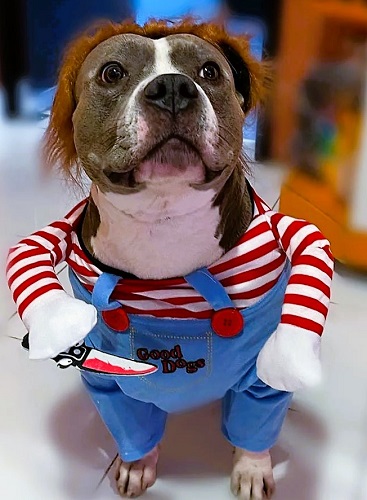 This pitbull Halloween costume is hilarious!
15. Cow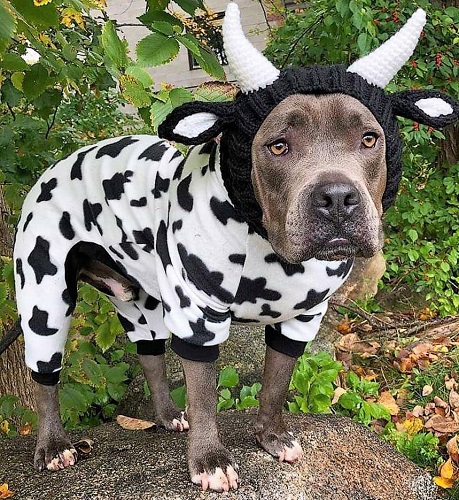 This cow costume for dogs is funny!
16. Cinco de Mayo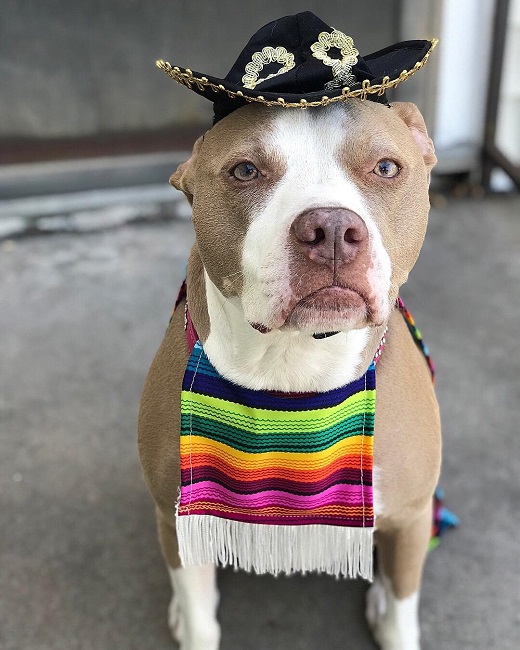 A size X-Large in this Cinco de Mayo dog costume will fit your pitbull perfectly!
17. Ketchup or a Hot Dog
View Ketchup Costume on Amazon
Get these Pitbull Dog Costumes: Ketchup Dog Costume | Hotdog Dog Costume
If you have two dogs, then having one Pitbull dress up as a bottle of ketchup and the other dress up as a hot dog would be perfect!
You may want to check out these dog duo Halloween costume ideas too!
Summary – Best Pitbull Dog Halloween Costume
In summary, you have many options for Pitbull Halloween costumes. And most of the Pitbull dog Halloween costumes are under $35 on Amazon!
Please leave a comment with your favorite Pitbull Halloween costume idea. I'd love to hear from you!
More Dog Halloween Costume Ideas
Dog and Owner Halloween Costumes
Pitbull Costumes for Dogs (Pinterest)
Explore All Dog Halloween Costume Ideas