45 Best Pregnant Halloween Costumes That Are Easy Too!
This post may contain affiliate links, which means I may earn a commission if you decide to make a purchase through our links, at no cost to you. You may view the disclosure here.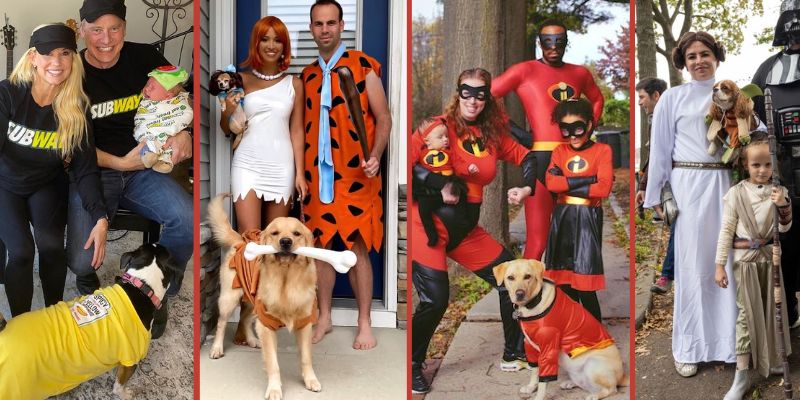 Pregnant Halloween Costume
It can be hard to find flattering clothes when you are pregnant, let alone a pregnant Halloween costume.
Thankfully, there are lots of pregnant Halloween costumes to choose from – if you get creative!
This guide is all about the best pregnant Halloween costumes. You'll find creative DIY pregnancy Halloween costumes, funny pregnant Halloween costumes for couples, and super easy pregnant Halloween costumes that you can buy on Amazon.
Best Pregnant Halloween Costumes for Halloween This Year
Have a great Halloween! And have a fun time wearing one of these maternity Halloween costumes.
Below are the best Halloween costumes for pregnant women.
1. Caution: Bump Ahead!
Dressing up as "Bump Ahead" for your pregnancy Halloween costume is a clever and playful way to embrace your baby bump! All you need is a traffic sign, a construction workers hat, and a bright yellow vest!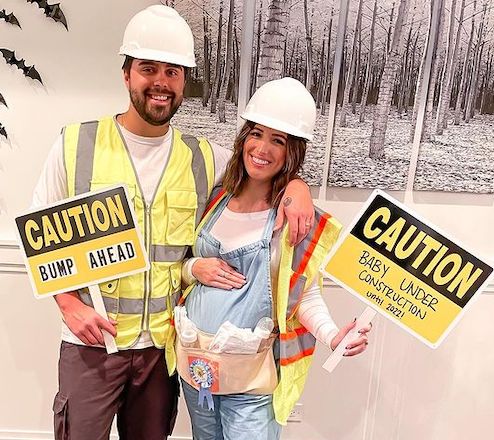 2. Pregnant Nun
Dressing up as a "Pregnant Nun" for Halloween is a provocative and controversial costume choice! Note: This costume may be offensive to some, so be careful on deciding where to wear this costume!
3. Wilma from The Flintstones
Dressing up as Wilma from The Flintstones is an easy Halloween costume to pull off if you are pregnant! All you need is a classic white dress, a wig for Wilma, and a big white pearl necklace! Have your husband dress up as Fred Flintstone.
This pregnant Halloween costume also comes in a plus-size Wilma Flintstone version.
4. Winnie the Pooh
Dressing up as Winnie the Pooh for Halloween is perfect if you are pregnant! Sexy Mama Maternity has a super cute Winnie the Pooh dress that you can buy. Then, get the family involved by dressing up as characters from Winnie the Pooh too! Your husband can be Tigger and your kid can be piglet!
Dressing up as Pooh Bear is a classic pregnant Halloween costume.
5. Avocado, Taco, and Hot Sauce
If you want a creative Halloween costume to wear while you are pregnant, why not dress up as an avocado? Then, have your husband dress up as a burrito. If you have a toddler or a baby at home, he or she can dress up as siracha sauce!
This pregnant Halloween costume is so cute! 🥑 This taco costume is fun too!
6. Thing 1 and Thing 2
Dressing up as Thing 1 and Thing 2 is a great DIY pregnant costume. To make this maternity Halloween costume even more fun, buy this blue wig on Amazon! And don't forget to have your hubby dress up as The Cat from "Cat in the Hat"!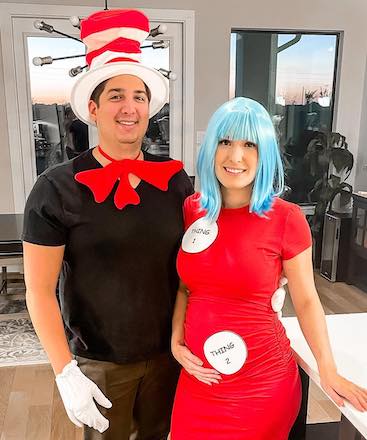 Shop Red Dress for DIY Costume
7. Helen Parr from The Incredibles
Can you wear a tight bodysuit for Halloween if you are pregnant? You bet!! This Helen Parr (Elastigirl) costume on Amazon is stretchy and perfect if you are only a few months pregnant!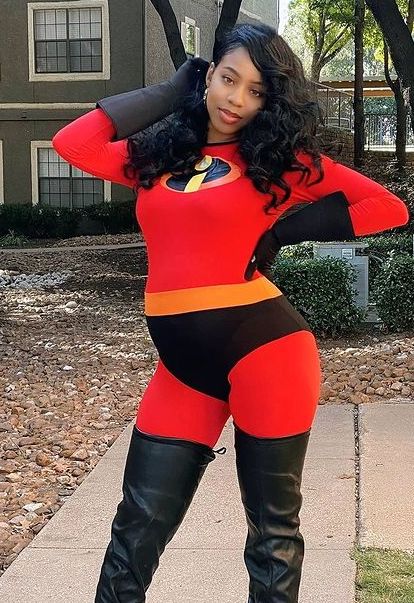 Shop Mrs. Incredible Halloween Costume
8. Skeleton with a Baby Inside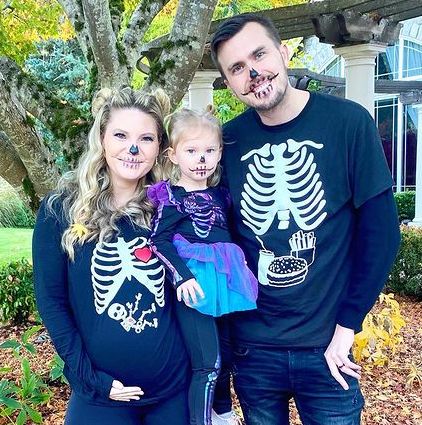 Shop Maternity Shirt with Baby Skeleton
9. Disco Ball
This pregnant Halloween costume is so creative! 💞🕺🏻✨
10. Football and Referee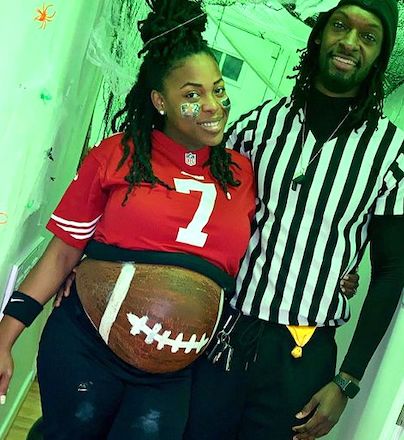 Shop Football Player and Referee Costumes
11. Princess Peach
If you have a son, he will love this bowser costume. Wear a light pink dress for this pregnant DIY costume idea.
12. Gumball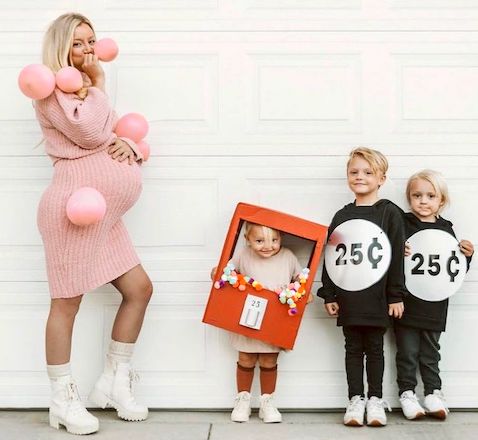 Shop Large Pom Poms for Bubblegum Costume
For this creative pregnant costume, wear a pink dress and glue pom poms to it.
13. Mr. Smee from Disney's Peter Pan
Shop Mr. Smee Blue and White Stripe Dress
A red hat and round glasses will complete this Mr. Smee DIY pregnant Halloween costume.
14. Thor from The Avengers Endgame
15. BB-8 from Star Wars
16. Basketball and Basketball Player
Shop Orange and Black Body Paint
17. Mike Wazowski from Monster's Inc.
Shop Monster's Inc. Maternity Shirt
18. Good Luck Troll
19. Speed Bump, Lightning McQueen, and Mater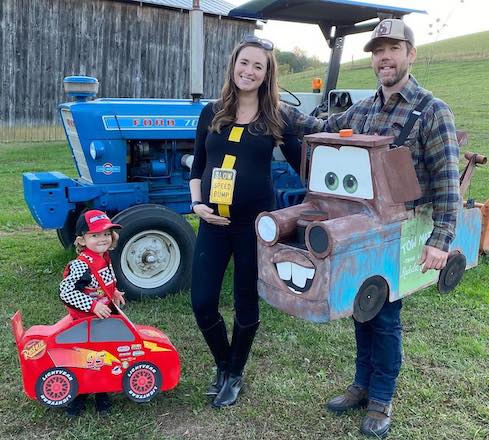 Shop Lightning McQueen Costume
Shop The Handmaid's Tale Costume
21. Violet from Willy Wonka and the Chocolate Factory
22. Magic 8 Ball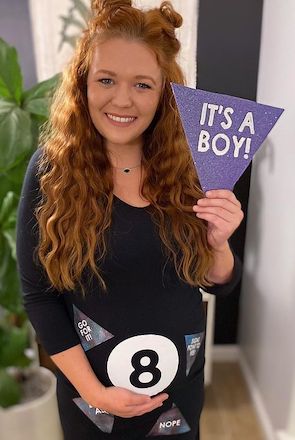 The Magic 8 Ball says..."It's a Boy!" 👻🎃
23. Wilson's Volleyball from Cast Away
24. Avocado
25. Robbin and Batman
26. Sexy Leopard
27. The Grinch
28. Juno and Paulie Bleeker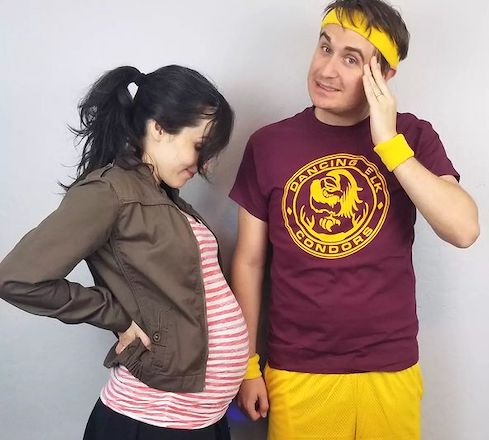 This pregnant Halloween costume idea is PERFECT if you want movie couples costumes.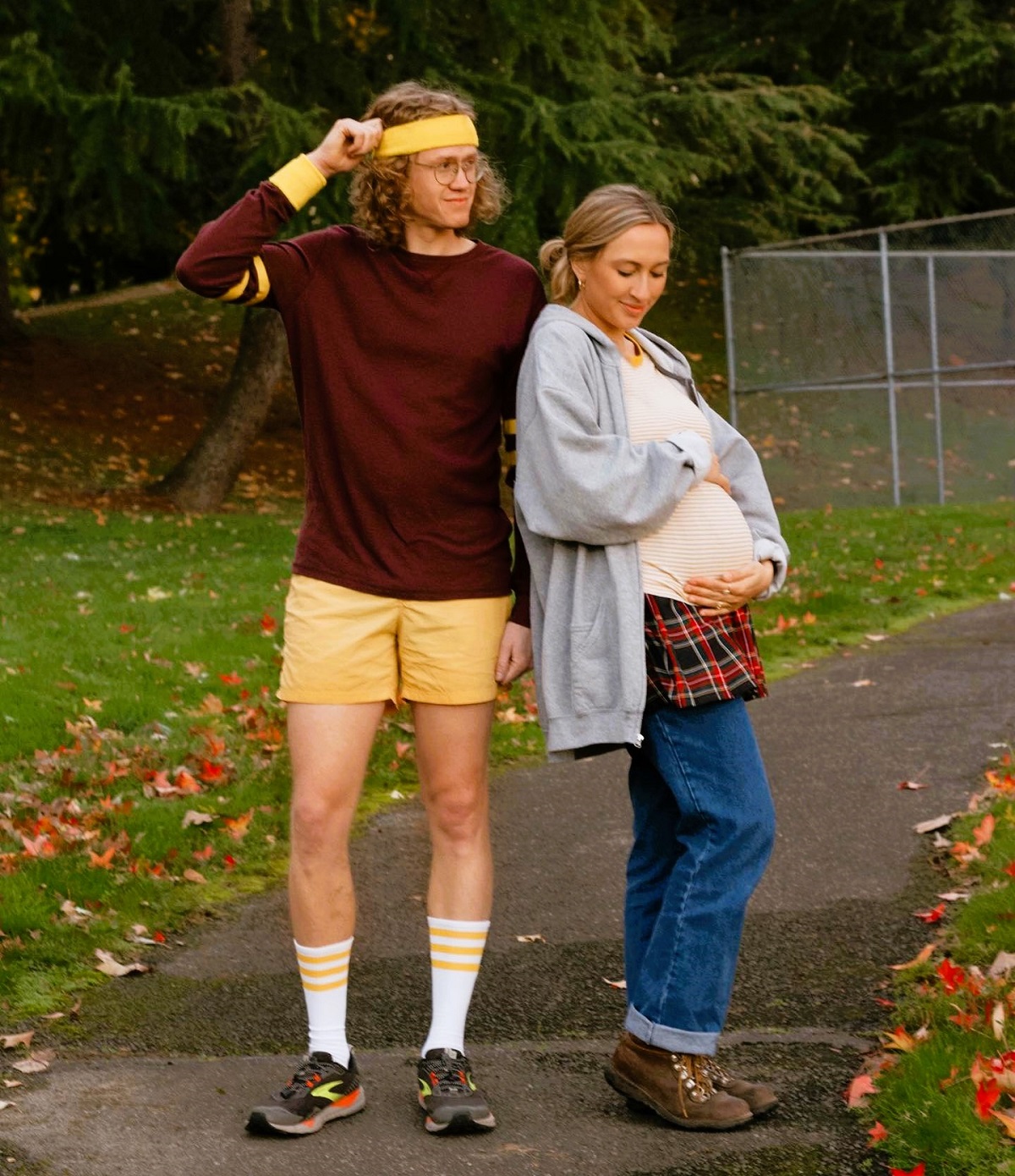 29. Tennis Ball and Tennis Player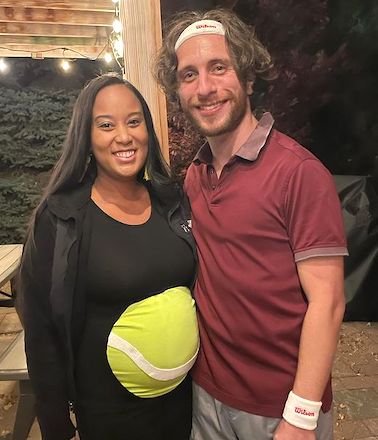 30. Mummy to Be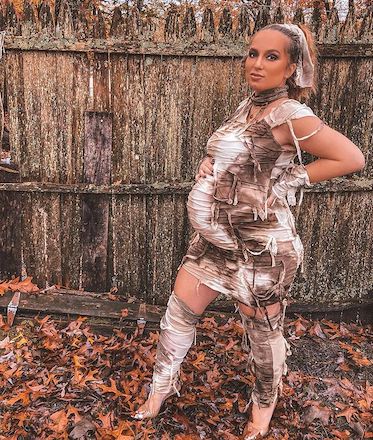 31. Gypsy / Fortune Teller
32. Prego Sauce and a Chef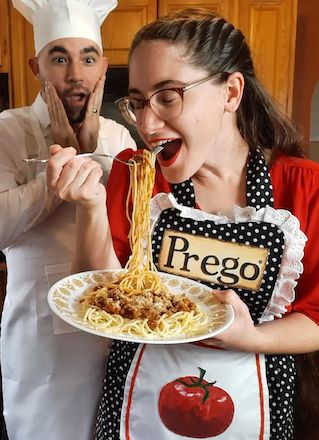 This pregnant Halloween costume is a classic. 🍝💕
33. Gumball Machine
34. Pillsbury Dough Boy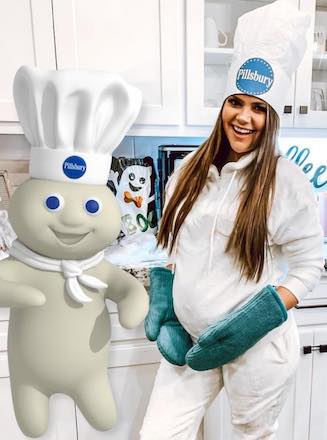 35. Moon and an Astronaut
36. Witch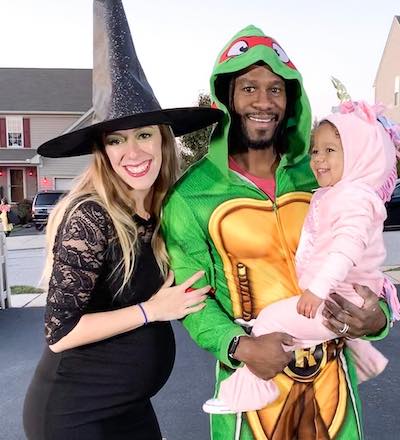 37. Cute Scarecrow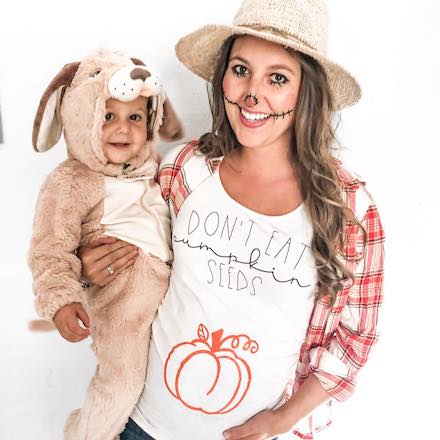 38. Two Men and a Pterodactyl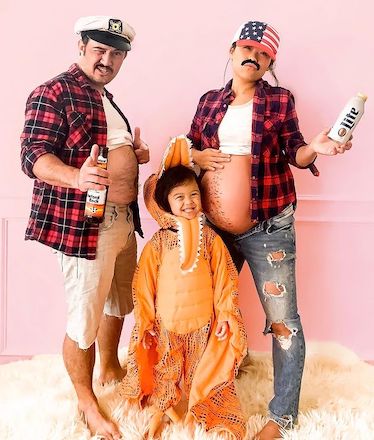 Men are hairy and love their beer. 🍺 This pregnant Halloween costume is so funny!
39. Housewife and Milkman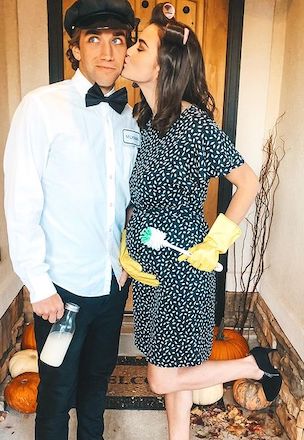 Shop Housewife and Milkman Costumes
This DIY pregnant Halloween costume is too cute! 🤰🏻🍼
40. Cute Kangaroo and Safari Guide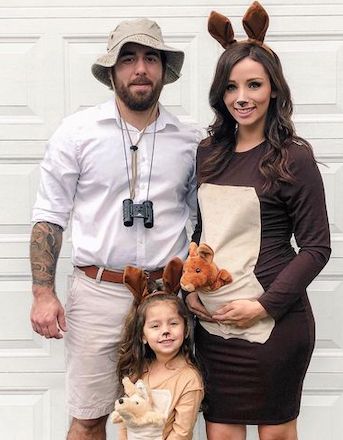 41. Hamburgler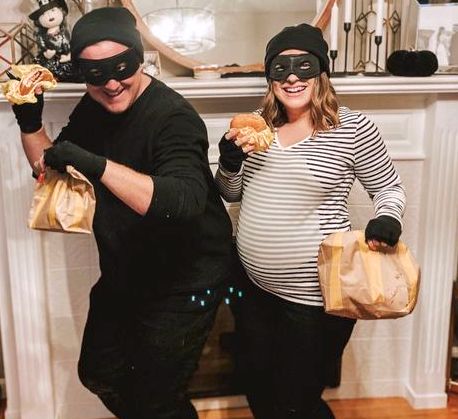 42. Bun in the Oven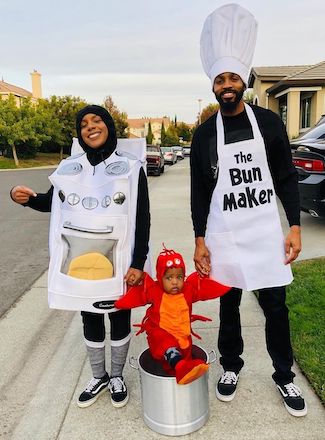 43. Sexy Cow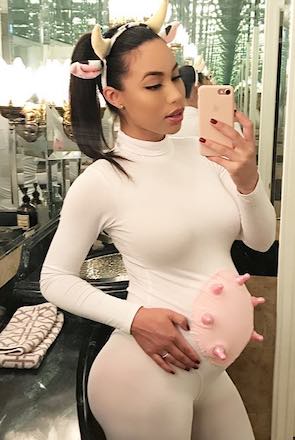 44. Tweedle Dee and Tweedle Dum from Disney's Alice in Wonderland
45. The Dude
If you want to make people laugh this Halloween, dress up as The Dude!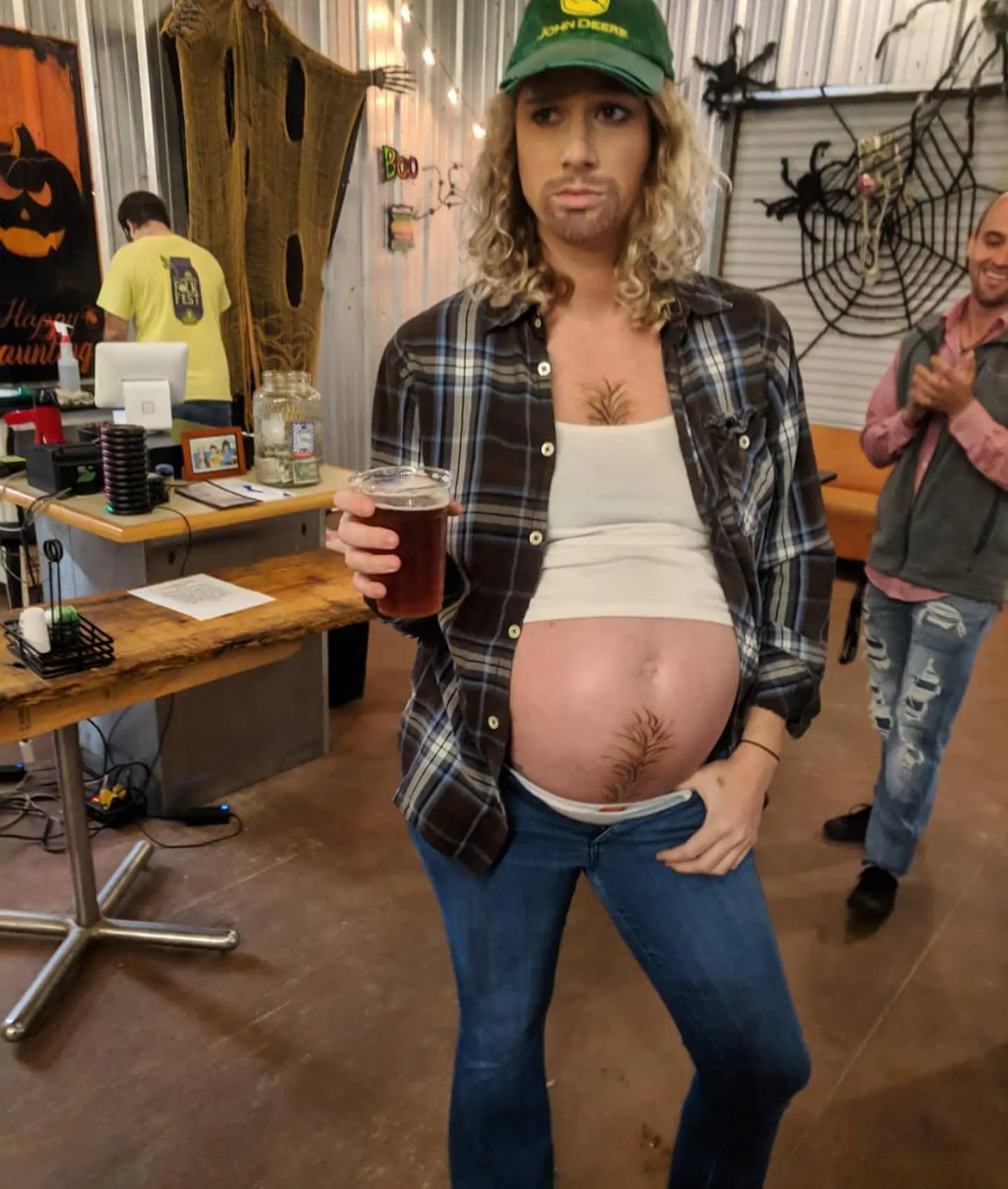 Halloween Costumes That Fit Pregnant Women
These aren't necessarily "maternity" or "pregnant" Halloween costumes, but these Halloween costumes are spacious around the bump area.
1. Cute Bat
2. Bumble Bee
3. Cookie (and Milk)
4. Hippie
5. Stitch from Lilo and Stitch
Summary
In summary, there are so many pregnant Halloween costumes and maternity Halloween costumes to choose from! From cute costumes to funny costumes to DIY pregnant Halloween costume ideas, the options are endless!
More Maternity Halloween Costume Ideas
You may want to check out these guides for more maternity Halloween costume ideas too!
Super Easy Maternity Halloween Costumes (by Very Easy Makeup)