18 Best Chihuahua Halloween Costumes!
This post may contain affiliate links, which means I may earn a commission if you decide to make a purchase through our links, at no cost to you. You may view the disclosure here.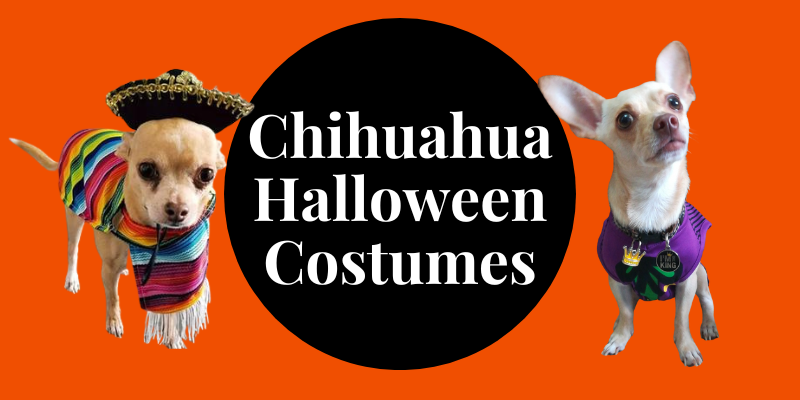 Chihuahua Halloween Costumes
Are you searching for the perfect Halloween costume for your Chihuahua?
Lucky for you, Chihuahuas fit most dog costumes. And…Chihuahuas look so cute in Halloween costumes!
Whether you want to get your Chihuahua a funny dog costume, a cute dog costume, or a Halloween costume for a dog and owner costume, you have many options!
This dog costume guide is all about the best Chihuahua Halloween costumes.
Continue reading to find the perfect costume for your little Chihuahua!
Best Chihuahua Halloween Costumes You'll Love
Have a great time dressing up your Chihuahua for Halloween!
Amazon is my #1 recommendation for shopping for dog costumes, especially for Chihuahua costumes. You'll also find Chihuahua Halloween costumes from Etsy and Chewy below.
And continue reading to the end for Chihuahua dog and owner costume ideas.
1. Spider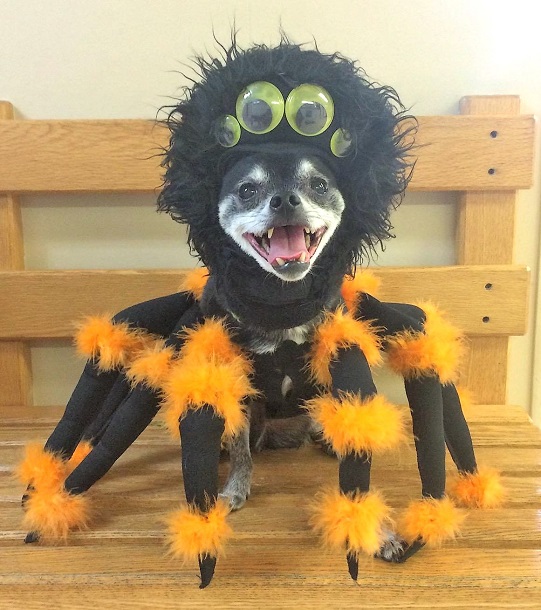 This spider costume is so funny on Chihuahuas!
2. Cowboy Riding a Dog
This Chihuahua Halloween costume is so funny! This is probably the MOST POPULAR dog costume on Amazon. This dog costume is so funny!
3. John Travolta
This Halloween costume looks perfect on Chihuahuas!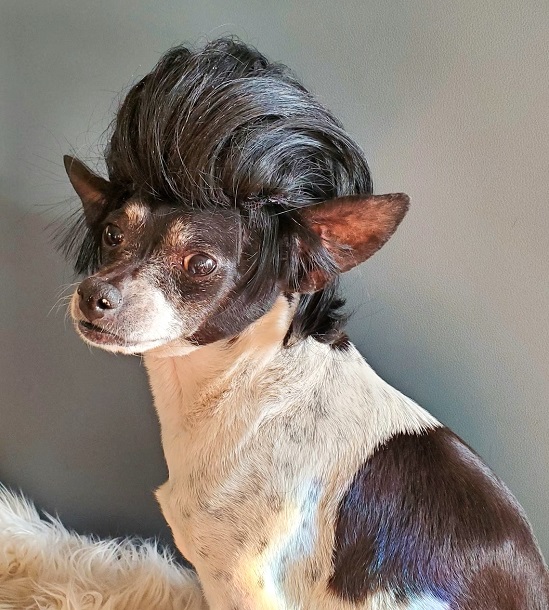 4. Minnie Mouse
Minnie Mouse is such a cute costume for dogs!
5. Bumble Bee
This small dog costume looks adorable on Chihuahuas!
6. Octopus
This octopus dog costume was practically made for Chihuahuas!
7. Prisoner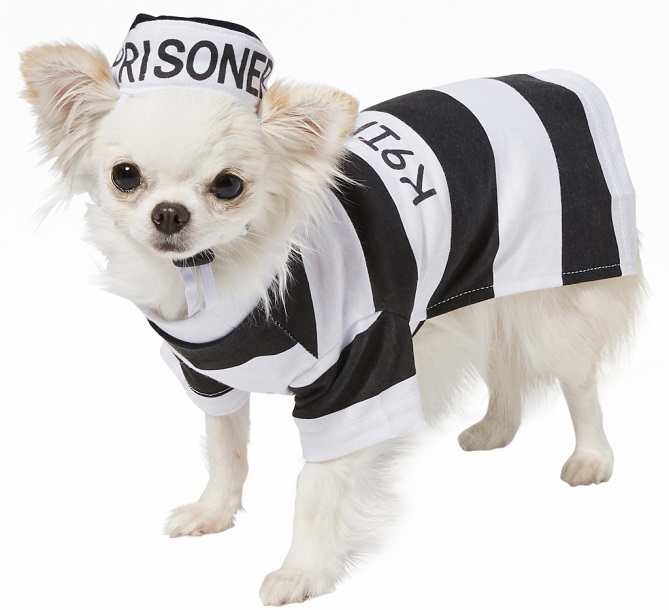 Take no prisoners!
8. The Joker
This Joker costume is so cute on Chihuahuas!
9. Cow
This happy cow costume even has udders on it!
10. Devil Dog
This funny dog costume is a best-seller on Etsy!
11. Gnome
This dog gnome costume is so cute!
12. Mexican Mariachi Player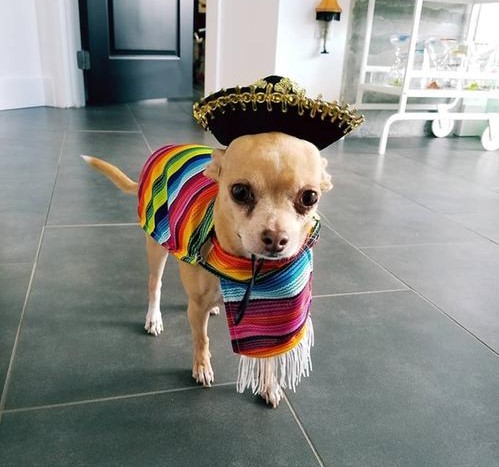 Dressing up as a Mariachi player is my favorite Halloween costume for Chihuahuas!
For a fun photoshoot opportunity, get these fiesta dog chew toys with hot sauce and tequila!
13. Hanging Loose (So Funny!!!)
Okay...this Halloween costume for Chihuahuas may be a little inappropriate, but it is also pretty funny.
14. Starbucks Latte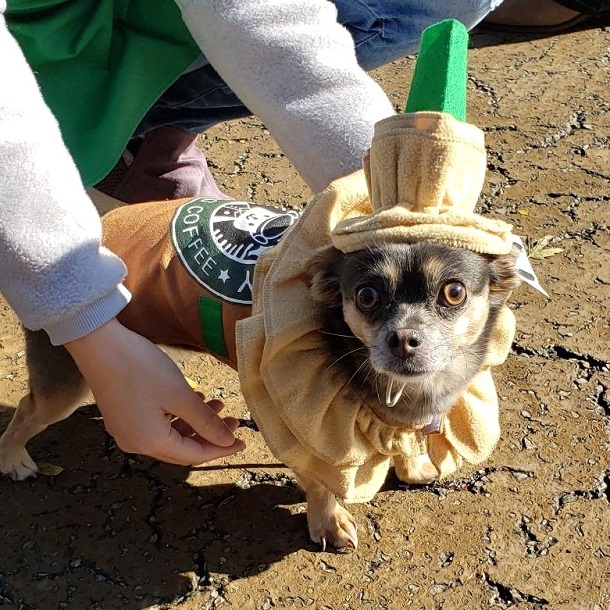 Chihuahuas look great dressed up as a tasty latte!
15. Tasty Taco
This taco costume for Chihuahuas includes a matching hat!
16. Lobster
This Chihuahua lobster costume is absolutely hilarious! You will be laughing out loud when you see your Chihuahua in this costume.
17. Robin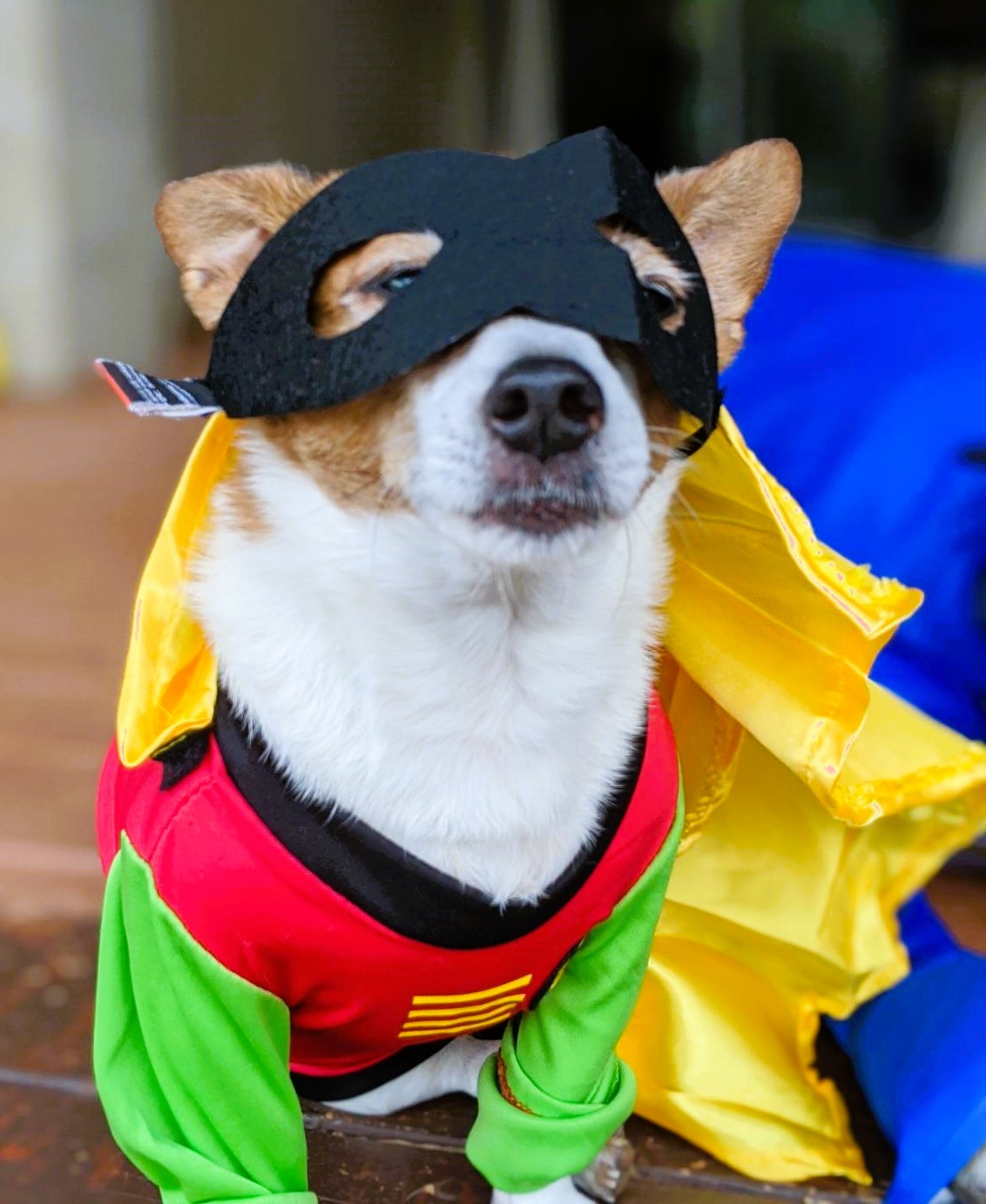 This Robin costume will fit your Chihuahua perfectly!
18. Marilyn Monroe
This Marilyn Monroe dog costume is absolutely hilarious! Your Chihuahua will look so ridiculous in this dog Halloween costume! To find more funny dog Halloween costumes, check out this article with the funniest dog Halloween costumes.
Chihuahua and Owner Costume Ideas
Want to dress up with your Chihuahua for Halloween?
Below are the best Chihuahua and owner costumes.
Elle Woods and Browser
This is such a cute Chihuahua and owner costume idea! Wear a pink jacket and sunglasses and have your Chihuahua wear a pink outfit.
Mexican Party Animal
Wear a big sombrero hat and dress up your Chihuahua in a dog sombrero hat and a serape poncho.
Tacos and Margaritas
You can dress up as a margarita, a taco, or a lime. Have your Chihuahua wear a taco dog costume.
Cute Pineapples
You can dress up as a pineapple and have your Chihuahua be a pineapple too!
Starbucks Barista and a Latte
Wear a green apron and buy your Chihuahua a dog latte costume. So sweet! (Pun intended)
Top 3 Chihuahua Costumes for Halloween
Want to know the VERY BEST Chuhahua costumes for Halloween? Below are my favorite costume ideas for Chihuahuas!
Taco
A Chihuahua just looks so cute (and funny!) when dressed up as a taco! Check out this taco dog costume on Amazon. A size small will fit your Chihuahua perfectly!
Mariachi Player
Like the taco costume for Chihuahuas, having your Chihuahua dress up as a Mariachi player is just perfect! This Chihuahua mariachi costume on Amazon is so cute! Order a size small in this dog costume for your Chihuahua.
Spider
This dog spider costume is hilarious!!! Check out this YouTube video to see this spider costume on a dog!
Summary – Best Chihuahua Halloween Costumes
In summary, there are lots of cute Chihuahua Halloween costumes to choose from.
Whether you want your Chihuahua dressed up as a DC Marvel character, a movie character, or a funny animal (like a lobster or a bumble bee), you have many options!
More Dog Costume Guides
You may also want to check out these Halloween costume guides!
Chihuahua Costumes on Pinterest
Best Family and Dog Costumes for Halloween